ECSU Joins 39 Other Aviation Programs in the World with AABI Accreditation
---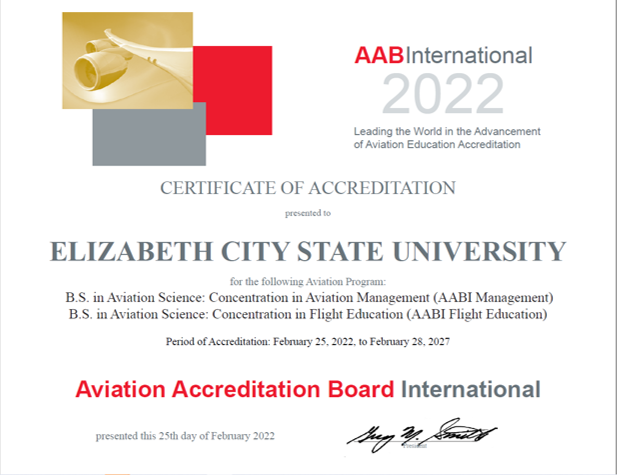 Elizabeth City State University (ECSU)'s Bachelor of Science in Aviation Science degree program has received accreditation from the prestigious Aviation Accreditation Board International (AABI).  Including ECSU, a total of 40 aviation programs in the world have accreditation from AABI, which requires robust integrity, performance, and quality standards in order to become certified.
"The university is committed to excellence and increasing diversity in the aviation workforce.  We have one of the top programs in the nation – and the only four-year aviation degree in North Carolina," said ECSU Chancellor Karrie G. Dixon.  "We have continued to expand and enhance our program in a myriad of ways, and it continues to provide a tremendous return on investment for our students and the state."
Over the past several years, ECSU has established partnerships with United Airlines, the U.S. Air Force, the First Flight Society, NC Department of Transportation, U.S. Coast Guard, Association of Unmanned Vehicle Systems International, Golden LEAF Foundation, and many others.  These strategic collaborations provide experiential and work-based learning opportunities for our students, as well as a direct transition to employment. The AABI accreditation will continue to open doors to new partnerships with employers.
"A heartfelt 'thank you' goes out to all the faculty in the Aviation Science program who made this certification possible.  Dr. Kuldeep Rawat provides inspiring leadership for our program, and Robin Mangham was instrumental in leading the AABI review," said ECSU Provost Farrah Ward.  "Everyone has an eye to the future and how we can continue to improve and grow our aviation degree, and we are proud of the entire team."
Note:  Dr. Kuldeep Rawat is the Dean of the School of Science, Aviation, Health, and Technology.  Ms. Robin Mangham is the Aviation Program Coordinator and a lecturer for the Aviation and Emergency Management program.
---