National Air Force Jr. ROTC Flight Academy Comes to Campus
---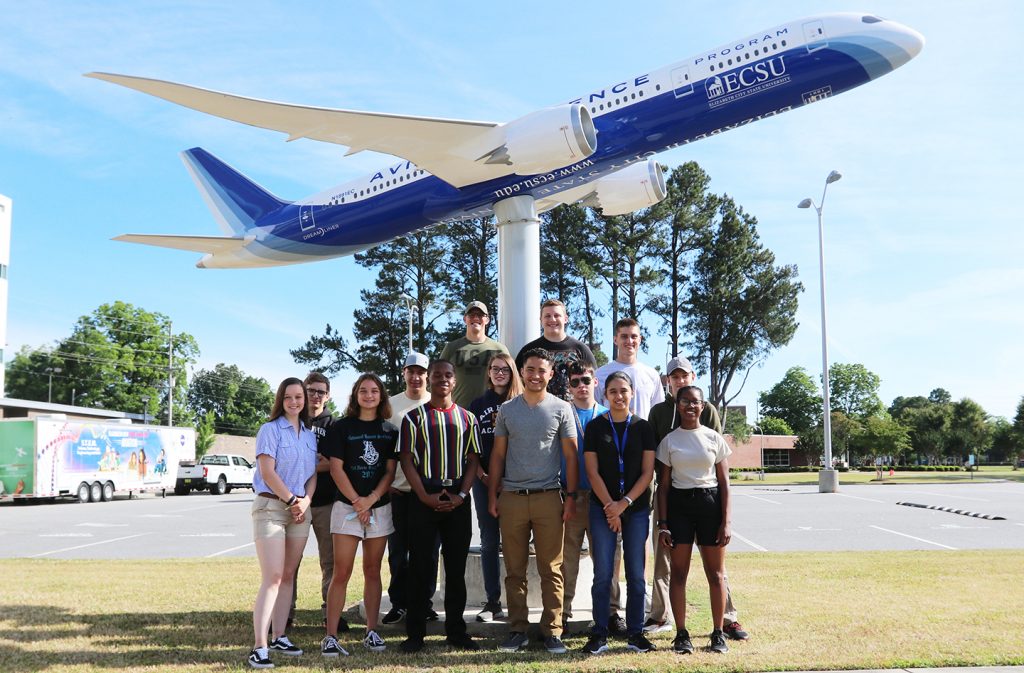 Fourteen Air Force Jr. ROTC cadets from across the country have come to ECSU to earn their private pilot's license during a national flight academy.
Ethan Tores plans to fly heavy planes for the Air Force, while Ella Nair and Ethan Buck have their eyes on become fighter pilots. All three are part of a 14-student Air Force Jr. ROTC aviation academy hosted by Elizabeth City State University with the ultimate goal of awarding each student a private pilot's license at the end of an 8-week session. 
"The ideal is that they leave with a private pilot's license, but at least they will get close to that," said Dr. Kuldeep Rawat, the dean of the School of Science, Aviation, Health and Technology. The cadets, he said, are embarking upon an intensive eight weeks of study and flight training. 
"When they're not flying, they're studying," said Dr. Rawat.
Dr. Rawat says the first four weeks will be a combination of flight training and studying for the FAA written exam. The test will take place at the end of the first four weeks, and more intensive flight training will follow.
"This is very intensive because this is typically done in 16 weeks," he said.
ECSU is one of 17 universities from across the country to be awarded the contract to train the Jr. ROTC cadets. A $286,000 contract brings the 14 cadets to Elizabeth City to train and study for their private pilot's license and prepare for a future in military aviation.
The scholarship program is a collaborative effort between the universities and the Air Force to address a national pilot shortage. Currently, Boeing predicts an annual need to hire 6,000 civilian pilots a year for the next 20 years and military needs push that number over 8,000.
Mr. Tores is a senior at Fresno State University in Fresno, California. Like the other 13 ROTC cadets, he's come across the country to attend the academy in order to become licensed to fly.
Ms. Nair is a senior at Timber Creek High School in Orlando, Florida. Her long-term goal is to fly fighter jets for the Air Force.
Mr. Buck, on the other hand, came from San Antonio, Texas where he recently graduated high school. He, like Ms. Nair, plans to fly fighter jets but his goal is to fly for the Navy.
"I just like the ocean and fishing," he said.
The academy was announced in April 2020 and was planned for that summer. However, with COVID-19 safety concerns, it was postponed.
Aside from the need for pilots, the academy also addresses the issue of diversity in the industry. Currently, women make up 6 percent of pilots and minorities represent less than 10 percent.
The Air Force Jr. ROTC currently has an estimated 125,000 cadets enrolled in schools across the nation and is the Air Force's most diverse program, according to information provided by the Air Force. Minorities represent 58 percent of the Air Force Jr. ROTC student body, and women make up 40 percent. 
---