ECSU confers degrees to 245 graduates at its 176th Commencement ceremony
---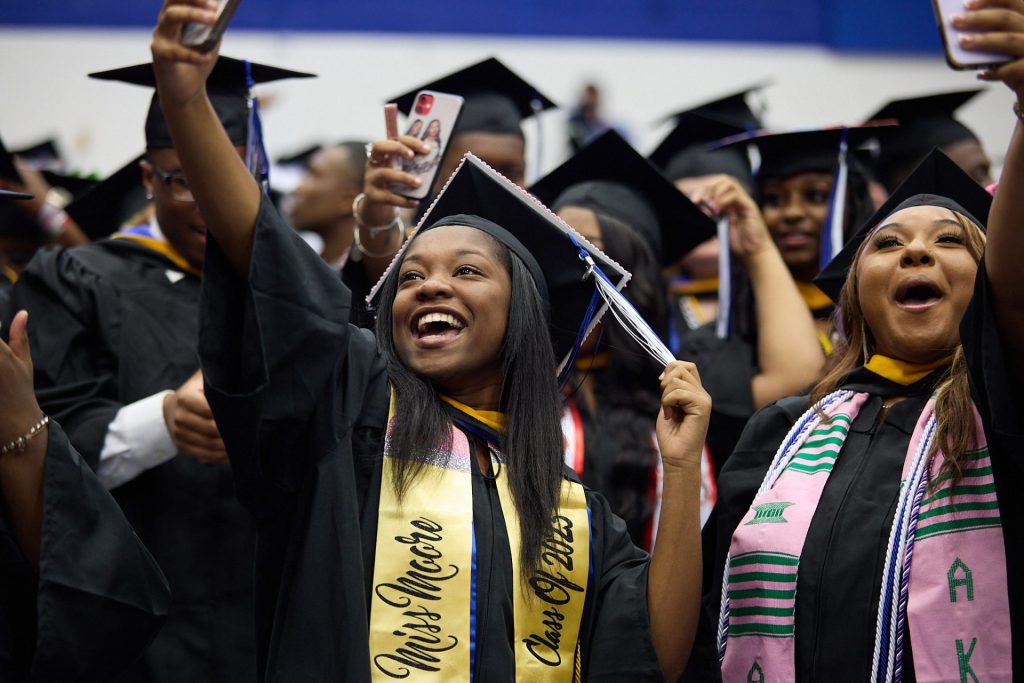 Elizabeth City State University (ECSU) hosted its 176th Commencement Exercises May 6, awarding 245 bachelor's and master's degrees to members of the spring 2023 class.
A Commissioning Ceremony was held May 5, during which three student graduates—Derek Felton Jr., Demarkus Moore and Xavier Smith—were commissioned as Second Lieutenants in the U.S. Army. They reaffirmed the Oath of Office during the Commencement ceremony.
Dr. Gwendolyn Boyd, a higher education leader, was the Commencement speaker. Boyd, an engineer, is well noted for her prominent advocacy in Science, Technology, Engineering and Mathematics (STEM) education. Throughout her address, Boyd heartily encouraged students to work hard, have faith, chart their course carefully and realistically and surround themselves with the appropriate village.
"The only place that success comes before work is in the dictionary," Boyd said. She told them to share stories of the great work at ECSU and chase their dreams. "You have the distinguished title of becoming an alumni member of ECSU. Go forward Vikings and change the world."
 Top honors during the Commencement ceremony included recognition of the Bearer of the Mace, the student or students who enter ECSU as a first-time freshman and leave with the highest cumulative GPA in the prospective graduating class. And, the Bearer of the Shield, the student or students who enter ECSU as a transfer student and have the highest cumulative GPA in the prospective graduating class.  
William Bailey, Jazmyne Smith and Keeley Weber were recognized as Bearer of the Mace honorees. David Christman was awarded Bearer of the Shield.
ECSU Chancellor Dr. Karrie G. Dixon charged graduates to continue their educational and professional pursuits with ECSU in mind.
"Thank you for allowing ECSU to be woven into the tapestry of your life," she said. "You will be successful, and I urge you to look for ways to make a difference in the world."
The ceremony also included a recognition of the 2023 University of North Carolina (UNC) Board of Governors Award for Excellence in Teaching, that was presented by Board of Governor Member Reginald Holley, to ECSU faculty member Shyamal Kumar Das, Ph.D. Das was among 17 faculty members selected by the UNC Board of Governors for the honor – one of the highest in the UNC System. A professor of Homeland Security and Sociology, he joined ECSU in 2010 and also serves on the editorial board for the Journal of Education and Social Justice and as the reviewer for the Journal of International Criminal Justice Review.
Five student profiles from the spring 2023 class are featured here:
https://www.ecsu.edu/academics/academicaffairs/commencement/stories.html.
Media Note: A infographic profile of ECSU's Class of 2023, photos and b-roll from the ceremony are available here.
The Commencement ceremony can be viewed on ECSU's YouTube channel here.
---