Preparedness over Partying: Meet Jazmyne Smith
---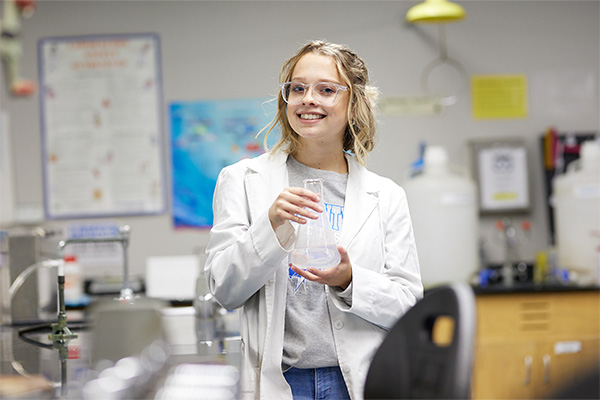 When Jazmyne Smith walks across the stage for her graduation May 6, she's pretty sure her mother will cry. 
This might be because her mom will witness her daughter graduate from Elizabeth City State University (ECSU), also her alma mater, with a degree in Biology and a concentration in Pre-Medicine. Or it could be because she will simultaneously receive the university's highest honor—the Bearer of the Mace designation, which recognizes the undergraduate with the highest GPA.  
There's also the fact that her daughter is committed to giving back to Elizabeth City and wants to stay in the area to work as a physician assistant, so the area has more healthcare providers. 
"She's very proud. She's seen all the hard work I've put into it," Smith said of her mother, a 2000 ECSU graduate. "I think she's going to cry more than scream." 
Since Smith graduated Northeastern High School 2019, she has worked as a certified nursing assistant. However, her dedication to the medical field, even during the COVID-19 pandemic, came with many sacrifices as a college student. 
"I would go to school through the week and on the weekend work at Sentara Albemarle Medical Center," she said. "The biggest sacrifice was definitely free time. I would see people I went to high school with having a good time, but I was focused on my studies." 
The self-denial wasn't without purpose, however. 
"It helped to keep me focused," she said. "I'm very determined and I'm very career oriented. Since high school, I knew I wanted to be a physician assistant, and even though it's hard I knew my end goal." 
Smith is currently applying to physician assistant school with a goal of working in the emergency and trauma sectors.  
As Bearer of the Mace, Smith has a 4.0 GPA. She remembers being overwhelmed along the way and thinking, "this is hard and scary," she said. "But I knew I was never going to give up." 
---