Preparing to Soar: Meet William Bailey
---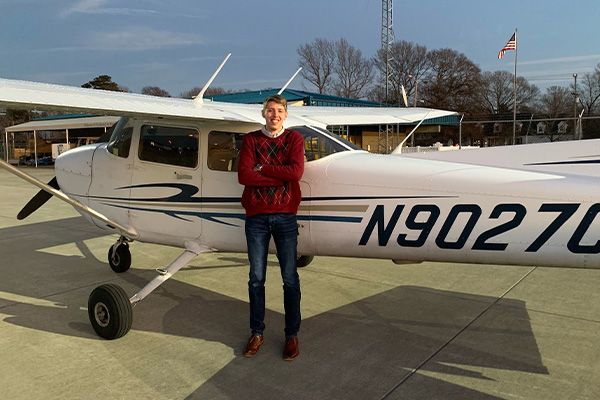 William Bailey had three requirements on his list for selecting the ideal college: it was in North Carolina, as he had a goal of graduating debt free; a small school where he could get to know both the professors and students well and not too far from home. He selected Elizabeth City State University (ECSU) and chose to major in Aviation Science.
He grew up in Amherst, Va., before he relocated to Roxboro, N.C., with his parents and younger brother, Paul, before he started high school.
"When I was a teenager and flew for the very first time and went on several international mission trips in high school, I realized that I enjoyed flying and traveling," said Bailey. "In 2018, my family visited the Outer Banks and flew in a small Cessna airplane. In coming to college, I would either study Spanish, as I am passionate about the Spanish language and culture, or aviation. I prayed and thought about it a lot. Previously, I was learning toward missionary aviation, where small bush planes are flown in rural areas where land transportation takes much longer. For example, they can provide medical supplies in villages that are hard to reach or where an airstrip can cut travel time from three days to 30 minutes."
While at ECU, he thanks Reggie Thomas, an ECSU flight instructor also from Roxboro, for encouraging him to strive for excellence in his aviation endeavors. Bailey also credits Robin Mangum and Ben Euler, who opened him to air traffic control. He was active on campus and started the Viking chapter of CRU Campus Ministry with friends. "I enjoyed seeing the group grow over the past three years."
Bailey is graduating in three years; he entered the university with several AP credits from high school. Upon graduation, he accepted a full-time position as a ministry coordinator with My Life Matters and will work with high school students in his hometown of Roxboro. He credits his strong faith in Jesus Christ for guiding the next steps in his career. "I still plan to get my instructor's license and to teach part-time at a nearby flight school, but my vision and goals have shifted to full-time ministry."
He graduates from ECSU with a 4.0 GPA and is one of three top graduates to earn the designation Bearer of the Mace. "It comes down to God's faithfulness as He has been with me throughout the process of getting this far."
My family has been very supportive and encouraging throughout my journey. Bailey will also start the next chapter after college with a new wife, married on May 20 to his fiancé. He leaves his best friend at ECSU, his brother Paul, a sophomore business major, to continue the Viking tradition.
---