ECSU Founding + Chancellor's Legacy Award Honorees 2022
---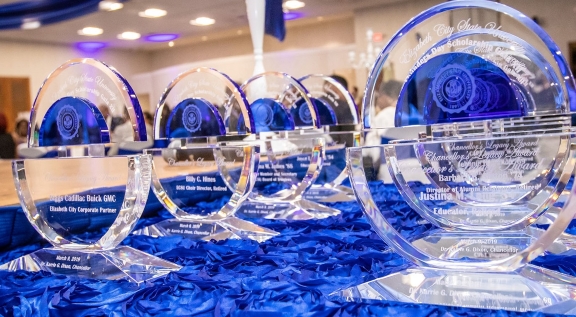 ECSU Founding
On March 3, 1891, the Elizabeth City State Colored Normal School was established by the North Carolina General Assembly, thanks to Hugh Cale, an African-American representative from Pasquotank County.
The school had 23 students and $900.
Now, 131 years later, Elizabeth City State University offers more than 30 undergraduate and graduate degree programs, along with several online degree options.  It is the #1 HBCU in the nation for helping students from lower-income households achieve economic success, and has been named the #1 most affordable four-year HBCU in U.S. by Student Loan Hero.
ECSU creates leaders who are courageous, resilient, and empowered.  Viking Pride is not just about the institution — it is about the people.  People who serve humanity with a passion for life-long learning and strive for excellence as the standard.
Chancellor's Legacy Awards Program
This honor is organized by the Office of the Chancellor in partnership with the ECSU Foundation, Inc. The award recognizes individuals, businesses, corporations, and foundations who have best demonstrated the standard of excellence that defines and shapes ECSU as an institution.  It is one of the highest honors given by the university.
Below are the 2022 Chancellor Legacy Award honorees.
Delores Locke McClain – Class of 1970
Mrs. Delores Locke McClain graduated in 1970 from Elizabeth City State University with a Bachelor of Science degree in Mathematics and Science. She later obtained the Master of Education degree in and Supervision from the University of the District of Columbia. As a champion for ECSU, in 2017, Mrs. McClain raised over $30,400 for student scholarships and earned the coveted title of Ms. Alumni and achieved the distinction at that time of having raised the largest amount of any contestant since the establishment of the event. She established the Roman and Alberta Locke Endowed Scholarship in honor of her parents for students majoring in STEM. Mrs. McClain is a life member of the ECSU National Alumni Association, Inc. and has served as a chapter officer in the William T. Bowser, Sr. Alumni Chapter (MD).
Mrs. McClain is also active in her community and serves on the board of directors of The Delta Foundation in Prince George's County, Maryland; president of American Business Women's Association, Oxon Hill Charter Chapter, Maryland; member of the Prince George's County (MD) Alumnae Chapter of Delta Sigma Theta Sorority, and a trustee and member of the Scholarship Ministries at Mt. Ennon Baptist Church in Clinton, Maryland.
Ernest G. Murphrey
Mr. Ernest (Ernie) Murphrey is a native of eastern North Carolina. He retired in 2011 after a career of 33 years on the fiscal side of higher education. Prior to his retirement, he held financial management positions at UNC-Chapel Hill (1978-81), NC State (1981-89), the Board of Regents for the University System of Georgia (1989-93) and the Georgia Institute of Technology (1993-97), and Elizabeth City State University (1997-2001), where he served as vice chancellor for business and finance. In all of these positions, Mr. Murphrey worked closely with the boards and other senior staff members to develop policies and programs and to help represent the needs of the institutions before various legislative and government groups.
At Elizabeth City State University, Mr. Murphrey was noted for his strategic efforts to plan, implement, manage, and optimize resources to meet the financial needs of the faculty, staff, and students. He worked closely with the ECSU Foundation and the university's community partners to maintain the financial integrity of the university during a very economically challenging time. Beyond his tenure as an employee at ECSU, Mr. Murphrey became a flag bearer for others by establishing a university endowment to support student achievement and success. His current involvement includes membership on the ECSU Board of Visitors, an advisory group established to advise the chancellor on matters related to maintaining and enhancing institutional quality and excellence.
Mr. Murphrey holds undergraduate and master's degrees in business administration from the University of North Carolina at Chapel Hill.
Dr. Marcus J. Newsome – Class of 1975
Dr. Marcus J. Newsome is a 1975 graduate of Elizabeth City State University (ECSU). The opportunities he received at ECSU in the classroom and a variety of organizations have inspired him to dedicate his life to improving the human condition.
Dr. Newsome worked his way from the classroom to becoming an award-winning superintendent for three school districts. As superintendent in Newport News Public Schools in Virginia, all Newport News high schools were recognized as 'Best High Schools in America' by Newsweek Magazine. During his tenure as superintendent of the Chesterfield County Public Schools in Virginia, he was recognized at the White House during the Obama administration as a national leader in digital education.
Noted for his innovative and transformational leadership, Dr. Newsome also served as a consultant to two Virginia governors, members of Congress, and business leaders around the world on solutions for closing achievement gaps, narrowing the digital divide, and 21st century teaching and learning.
Dr. Newsome holds a master's degree in Supervision and Administration and a doctoral degree in Educational Leadership from Bowie State University. As a lifelong learner, Dr. Newsome pursued and earned a doctorate in Religious Education from International Seminary.
Currently, Dr. Newsome serves as the president of the National Bible College and Seminary in Fort Washington, Maryland and Director of the Virginia Superintendents Leadership Academy.
Dr. Sandra Singleton Newsome – Class of 1970
A Washington, North Carolina native, Dr. Sandra Singleton Newsome graduated from Elizabeth City State University in 1970 with a Bachelor of Science degree in Early Childhood Education, with a concentration in Music. While at ECSU, she was a dedicated member of the Mighty Viking 100+ Marching Band.
After graduating from ECSU and relocating to Washington, DC, Dr. Newsome served in the public school system for 30 years as a teacher, reading specialist, assistant principal and principal. In addition to serving in the District of Columbia Public Schools (DCPS) she served for 20 years in the Prince George's County Public Schools (PGCPS). Throughout her career, she earned a Master of Arts degree in Reading from Bowie State University and a Doctor of Education degree in Educational Administration from Pensacola Christian College.
A resolute educator in the District of Columbia Public Schools (DCPS), Dr. Newsome received three national Teacher-to-Teacher grants and service awards for writing exemplary programs for the urban learner. She was the recipient of the Cafrtiz Professional Development Grant. As a teaching fellow she was able to travel to Senegal West Africa to research the Socialization of the Senegalese Male at the University of Dakar. Dr. Newsome is published in Clute Professional Journal of Teaching and Learning.
Since retiring from both DCPS and Prince George's County Public Schools (PGCPS), Dr. Newsome currently serves as Senior Vice President of Flight to Excellence Educational Consultant, LLC.
As a devoted member of the William T. Bowser, Sr. Alumni Chapter in Maryland, Dr. Newsome presently serves as the treasurer of the chapter. She is a lifetime member of the ECSU National Alumni Association, Inc., where she serves as First Vice President. She is also a member of the ECSU NAA 1891 Club and Vice President of The Delta Kappa Gamma Educational Society of Washington, DC. Dr. Newsome serves as the Chair of the education committee of the American Business Women Association; and is a member of Reid Temple AME Church in Glendale, Maryland. In 2017, Dr. Newsome represented the university as Ms. Alumni after raising over $20,000. She and Dr. Eddie Newsome, Jr. '73 have been married for 51 years and currently resides in Mitchellville, Maryland.
Celeste Carr Williams – Class of 1964
Mrs. Celeste A. Carr Williams was born in Wilmington, North Carolina. She attended public school in Wilmington and graduated from Williston Senior High prior to her enrollment at Elizabeth City State University where she earned a Bachelor of Science Degree in 1964. Later, Mrs. Williams completed advanced studies at Towson State University, Howard University, and the University of Maryland.
A dedicated professional, Mrs. Williams takes pride in her 43-year career as an educator in Washington, DC; Kent County, Maryland; and Prince George's County, Maryland. She served in many capacities, including science teacher, mathematics teacher, program facilitator, science department chairperson, senior class sponsor, human resources specialist, and coordinator for the Comprehensive Partnership for Math and Science Program.
Mrs. William's leadership has been widely recognized. She was selected by her alma mater, Elizabeth City State University, to receive the National Association for Equal Opportunity in Higher Education (NAFEO) Distinguished Alumni Award. She served on the ECSU National Alumni Association Board of Directors for four terms. Mrs. Williams continues to be involved through her active life membership and participation with the DC Metro Alumni Chapter and the Viking Varsity Club. She is in the Hall of Fame for high school teachers in both Kent County and at Frostburg College. She was appointed as a founding member of the American Biological Institute International Women's Review Board and is a member of Delta Kappa Gamma Society International Key Women Educators.
During her distinguished career, Mrs. Williams served two terms as president of Prince George's County Educators' Association (PGCEA), an organization of nearly 10,000 members. She co-chaired PGCEA's 2003 and 2008 Read Across America campaigns that encouraged reading and literacy. In continuous service to PGCEA, she is the current chair of the PGCEA Scholarship Foundation, Incorporated, which presented over $30,000 in scholarship to high school graduates in 2019.
For her outstanding service, she has received many recognitions: NEA Magazine article on "Six Over Sixty"; Chestertown's Historical Society/Educators at the Beginning of Integration; Extraordinary Women Community Leadership Award sponsored by State of Maryland Delegate Tony Knotts; and the 2019 Ruby G. Macon Award for Key Women Educators presented by the Theta Chapter of Delta Kappa Gamma Society International.
She is a member of Fort Foote Baptist Church in Fort Washington, Maryland.
---