ECSU faculty member receives top academic honor from UNC System
---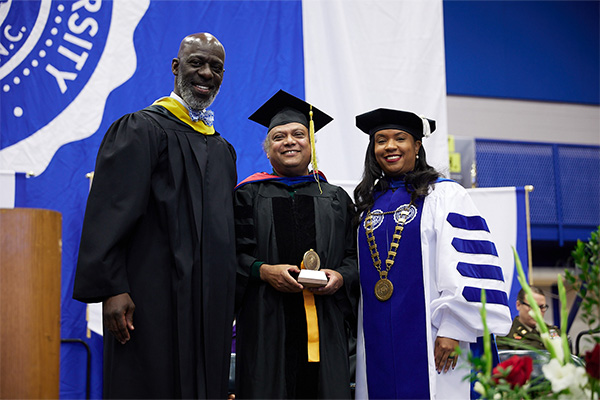 Shyamal Das, Ph.D., Elizabeth City State University (ECSU) professor of Homeland Security and Sociology, is one of only 17 academicians in the University of North Carolina (UNC) System to receive the 2023 Award for Excellence in Teaching. It is one of the highest faculty awards given by the University of North Carolina (UNC) Board of Governors.
At the ECSU Commencement ceremony May 6, the award was presented to Das by Board of Governors Member Reginald Holley. A professor of Homeland Security and Sociology, Das joined ECSU in 2010 and serves on the editorial board for the Journal of Education and Social Justice and as the reviewer for the Journal of International Criminal Justice Review.
"I am grateful to this institution and I'm very excited," said Das, of being an award recipient.
The UNC Board of Governors commended all awardees for their innovation and passion.
"These world-class faculty members choose to be part of our outstanding public institutions, and we are grateful for their service to North Carolinians," said Board of Governors Chair Randy Ramsey. "Congratulations to all on these well-deserved awards."
Since 2001 Das has conducted research centered around sex trafficking. He continued that research when he arrived at ECSU. Last year, he was the recipient of a nearly $343,000 grant, in collaboration with Fayetteville State University (FSU) and the Defense Alliance of North Carolina, to develop technology that analyzes data and trends related to sex trafficking. The two-year project grant was received from a partnership with the Criminal Investigations and Network Analysis Center (CINA), a multidisciplinary academic consortium led by George Mason University and funded by the U.S. Department of Homeland Security. The initiative's goal is to create solutions for the human trafficking epidemic that victimizes more than 25 million people around the world.
Das' current research focuses on creating software to detect sex trafficking.
"So far, I see people are more receptive," to this work, Das said. When you are trafficked, it's terrible. You are treated like an object. Children are trafficked, too. The sex industry is the largest industry in the world."
Estimated annual global profits from sex trafficking total an estimated $150 billion, according to the Department of Homeland Security.
---