ECSU Awards More Than 200 Undergraduate and Graduate Degrees at Fall 2022 Commencement Ceremony
Posted On December 10, 2022
---

U.S. Congresswoman Alma S. Adams Charges Graduates to Be "HBCU Excellent"
Elizabeth City State University (ECSU) celebrated the achievements of more than 200 students who earned their baccalaureate and master's degrees at the 175th Commencement ceremony held in the R.L. Vaughan Center today, December 10, 2022.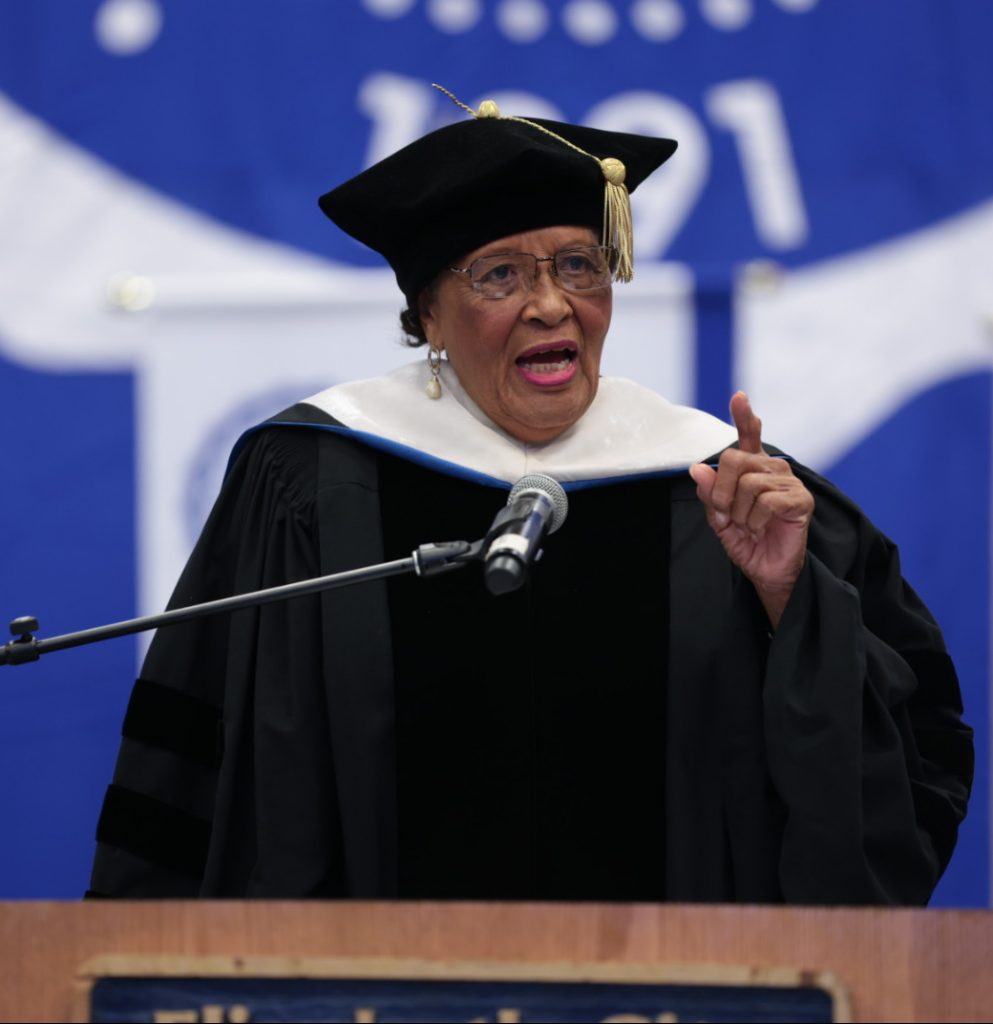 U.S. Congresswoman Alma S. Adams (12th District of N.C.)  provided the Commencement address. Her signature legislative accomplishment in Congress is the enactment of H.R. 5363, the Fostering Undergraduate Talent by Unlocking Resources for Education (FUTURE) Act, which permanently funds $255 million a year for all Minority-Serving Institutions, including $85 million for Historically Black Colleges and Universities (HBCUs). She saluted graduates for attending ECSU and noted, "You stand on hallowed ground. I commend you for remaining committed, for setting goals and realizing your dreams. Only you can determine your destiny."
Adams spoke about the power of HBCUs, referencing Dr. W.E.B. DuBois, a noted Black intellectual saying, "Of all the civil rights the world has struggled and fought for 500 years, the right to learn is undoubtedly the most fundamental." Adams told the graduates they are HBCU strong. "Excellence is what you are about here at ECSU. Always cherish and value your beginnings. Don't get your degree and go – get it and give, giving back to your community and your alma mater that gave so much to you." She stated, "We live in unprecedented times in our nation's history—a time of real opportunity, but also a time of struggle and transformation. Today, you join the ranks of alumni who value and support the university's mission. As an ECSU graduate, you have the awesome responsibility to continue the phenomenal legacy of this great institution. And, because ECSU is excellence, that makes you excellence too."
Spencer Edwards, an Aviation Science major from King, N.C., earned the recognition of Bearer of the Mace, which is awarded to the student who entered ECSU as a first-time freshman and has the highest cumulative GPA in the graduating class. Edwards, a Chancellor's Scholar, will graduate debt free from ECSU after only two and a half years. He is in the midst of completing his rating and certification to become a Certified Flight Instructor (CFI).
Lyla Gray Hanig, an Elementary Education major with a concentration in Social Sciences from Currituck County, N.C., was the recipient of the Bearer of the Shield honor. This designation is given to the student who entered ECSU as a transfer student and has the highest cumulative GPA in the graduating class. Hanig came to ECSU after earning her associate degree from College of the Albemarle. In January 2023, she will begin a new job as a kindergarten teacher at Jarvisburg Elementary School in Jarvisburg, N.C., where she attended the fourth grade.
Mr. Christopher L. Burrow, Ms. Bianca M. Chambers, Mr. Joshua S. Cox, Ms. Azjiana M. Spencer and Ms. Mashayla Wright were Commissioned in the United States Army, pinning the rank of Second Lieutenant (2LT), at the ECSU Army ROTC Commissioning Ceremony on Friday, December 9, 2022. They reaffirmed the Oath of Office during Commencement.
Mr. Burrow will serve as Military Police Officer and graduated with a degree in Mechanical Engineering.  Ms. Chambers will serve as a Chemical Officer and holds a degree in Education. Mr. Cox will also serve as a Chemical Officer and graduated with a degree in Interdisciplinary Studies. Ms. Spencer earned her Education degree and will serve in the Army Reserves. Ms. Wright will serve as an Ordinance Officer in the U.S. Army with her first assignment in Fort Hood, Texas, as a member of the 1st Cavalry Division; she graduated with a degree in Kinesiology.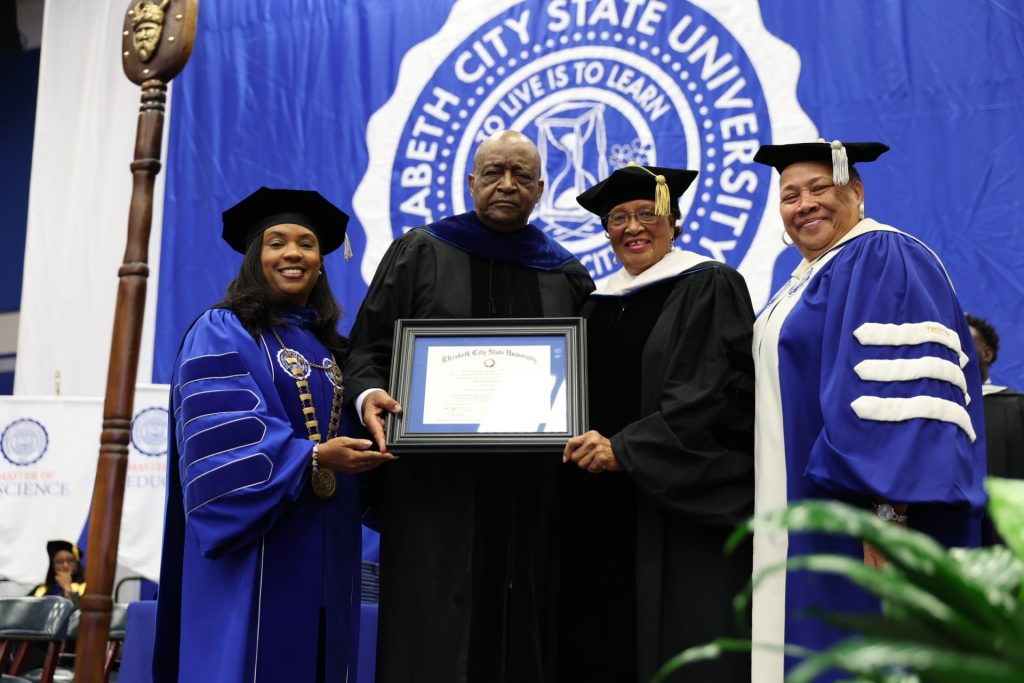 An Honorary Doctor of Public Service was bestowed upon Abdul Sm Rasheed '71, immediate past president of the ECSU National Alumni Association, former chair of the ECSU Foundation Board, former chair of the ECSU Board of Trustees and Trustee Emeritus. Rasheed founded and served as the former CEO of the North Carolina Community Development Initiative and Initiative Capital, a U.S. Treasury Certified Development Finance Institution.  Currently, Rasheed serves as CEO and Senior Advisor to the board of Franklin-Vance-Warren Opportunity.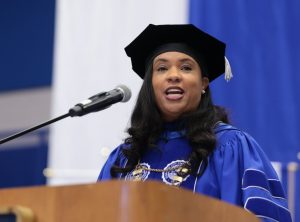 Dr. Karrie G. Dixon, chancellor of ECSU, provided a charge to the class of 2022, and stated, "As you go forth, continue to be ambassadors for ECSU.  I encourage you to tell our story; know your story. And, share your Viking experience with someone so that they will be inspired to sit where you now sit….at the threshold of great opportunities."
Four student profiles—three undergraduate and one graduate student—from the fall 2022 class are featured online. Additionally, videos are available highlighting Edwards and Alexus Danielle Elliott, who is an honors student, biology major and member of ECSU's 2022 CIAA Championship-winning volleyball team. The Dudley, N.C., native was also elected to the 2022 CIAA Volleyball Championship All-Tournament team.
The Commencement ceremony can be viewed on ECSU's YouTube channel.
---