Scholar Flies at the Highest Heights
Posted On December 9, 2022
---
Spencer Edwards, Bearer of the Mace
Aviation Science Major, Concentration Aviation Education
Hometown: King, North Carolina  
Flying has been a lifelong passion of Spencer Edwards since an early age. He began flying at 12-years-old and attended several aviation camps as a youth. "It was 2014 and I was watching TV and an ad came on for an aviation camp in Greensboro," said Edwards. The rest is history.
"I obtained my pilot's license when I was in high school." Edwards graduated from Stokes Early College High School in Stokes County, N.C. The King, N.C., native entered Elizabeth City State University (ECSU) in 2020 as a Chancellor's Scholar having already earned several credits toward his bachelor's degree, as well as an associate degree from Forsyth Tech Community College.
"When looking at colleges, ECSU had the only four-year Aviation Science program in the state of North Carolina so it was the perfect fit for me to come and finish my ratings and licenses," states Edwards. Ratings allow a pilot to fly a particular type of aircraft. During his time at ECSU, he has been able to complete all but one certificate— Certified Flight Instructor (CFI) —which Edwards is completing now.
"In my time at ECSU, I've been able to have a lot more aviation opportunities in addition to completing my certificates and also getting real world experience." For example, Edwards accompanied an ECSU flight instructor to Wichita, Kansas, to pick up one of the university's new airplanes in 2021. He was also involved in Alpha Eta Rho, a professional collegiate aviation fraternity.
In early 2022, Edwards competed in the National Intercollegiate Flying Association, an organization for collegiate aviators that includes competitive and non-competitive events and networking with industry and contemporaries, held at The Ohio State University. In October 2022, Edwards went on to earn several honors at the regional competition held in Chesapeake, Va., contending against more than 60 other students: first place in Aircraft Preflight Inspection; third place in both Aircraft Recognition and Power-Off Landing; fourth overall as Top Scoring; and fifth in the Top Pilot category.
At the same competition, ECSU brought home the Collegiate Aviation Progress Award and placed fourth in the Flight Events Championship, Ground Events Championship and SAFECON Championship, among other honors.
Edwards will graduate debt free from ECSU after only two and a half years. "Being a Chancellor's Scholar allowed me to use money that was saved for college toward my ratings. ECSU has done a lot for me, and I've always been very involved in the Aviation Science Department, which has helped me make numerous connections."
What's next? "I really like to give back. I've had many good instructors here at ECSU. In aviation, we say that 'what you are as a pilot is what your instructors were'—you are a combination of their knowledge and their expertise. I am hopeful that when I get my CFI certificate, I can begin working for the institution."
Edwards earned one of only two of the university's highest honors at the fall 2022 Commencement—Bearer of the Mace. The award is given to the student who has the highest cumulative GPA in the graduating class for the prospective Commencement exercise.
Kevin Kupietz, Ph.D., chair and associate professor in the Emergency Management  Department of Aviation and Emergency Management, notes, "Spencer has proven to be one of the shining stars in the aviation program, showing great leadership potential helping others and the program grow. We look forward to him joining ECSU as a flight instructor very soon where he will continue to guide and mentor new students to achieve their dream of being pilots."
With his newly minted Bachelor of Science degree in Aviation Science and a concentration in Aviation Education, Edward's ultimate goal is to work for an airline. He was accepted into the Republic Airways Cadet program, which provides training that helps students prepare to join Republic as a pilot and comes with a conditional job offer.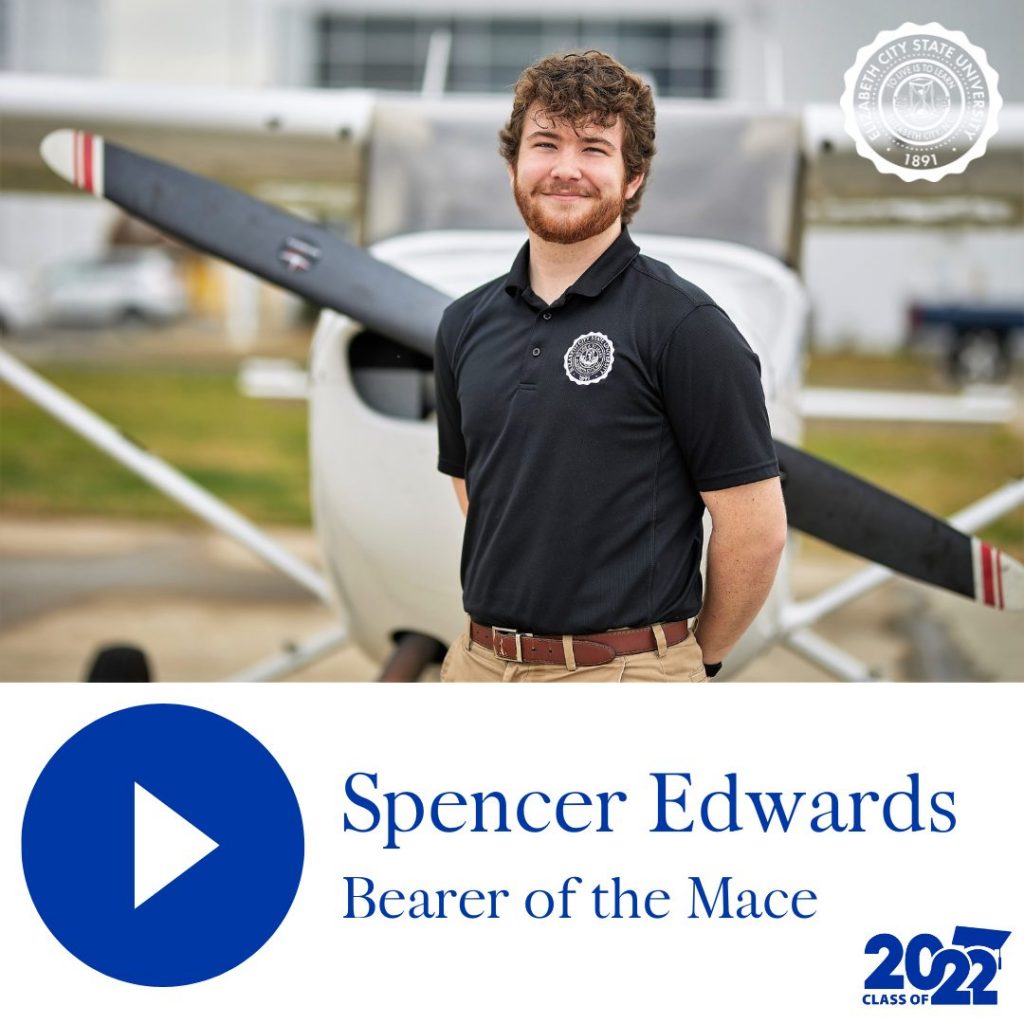 ---