Young Alums Talk Media Careers to Communications Students
---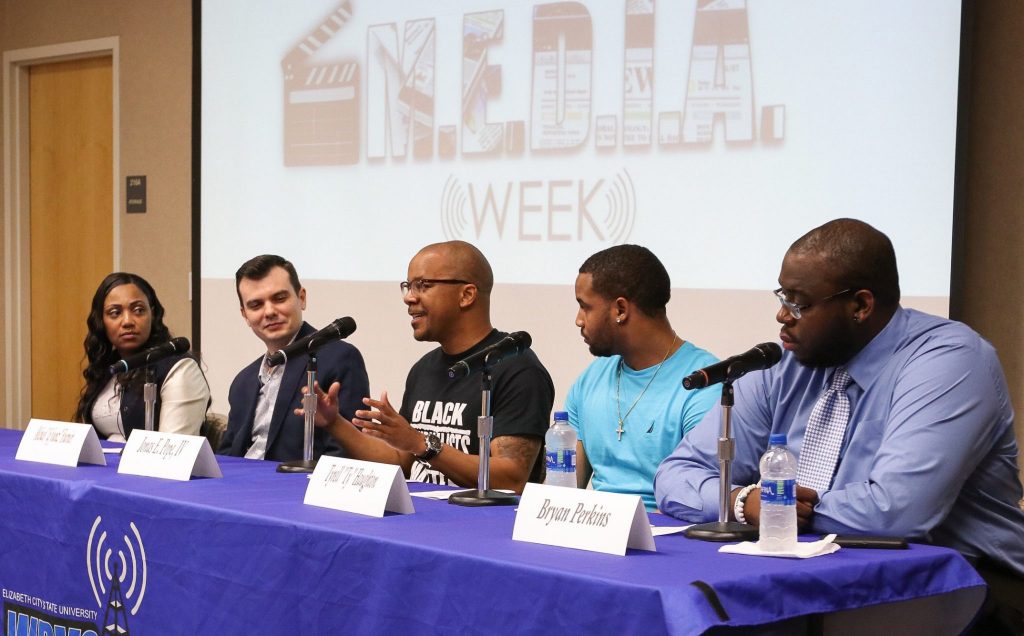 A panel of media professionals, including four ECSU alumni, spoke to communications students about careers in media Friday, April 27. Panelists included, left to right, Sheika Asali, Michael "DJ Fountz" Fournier, Jonas Pope, Ty Houghton, and Bryan Perkins. (Photo by Michael Harrison)
A singer/songwriter, a radio DJ, a music industry executive, a journalist, and a voiceover artist all sat down to talk to the Elizabeth City State University communications students about careers in media. Four-out-of-the-five panelists for M.E.D.I.A. (Media Education Does Inspire Achievement) Week 2018 are ECSU alumni.
Clay Mercer, production director for WRVS, 89.9 FM, moderated the panel, asking each participant to comment on his and her experience, offering advice to students, and sharing insights into the world of communications.
As students prepare to move into careers in communications, professionals such as Ty Houghton described life in the world of media. A music industry executive and road manager at Othaz Records, Houghton, a 2014 ECSU graduate, explained that the business requires persistence and hard work.
"It's a marathon," Houghton said of the day-to-day work involved in the record industry.
Bryan Perkins was an on-air personality for WRVS as a student. His deep and distinctive voice led him to a career as a voiceover artist.
Perkins, a 2014 ECSU graduate, says that while he's doing well as a voiceover artist, he also teaches school. He says he's in a competitive field and, "There are a lot of people who sound like me. They've been doing this for 20 years."
Perkins says that fact motivates him to maintain an edge when auditioning for a job voicing commercials and the like.
"I have to go in thinking I'm better than the guy who's been doing this for 20 years," Perkins said. "I have to go in thinking I'm better than James Earl Jones."
Perkins says that despite the challenges of a competitive career, he's perfecting his voice talent and is fast becoming known for his work.
"I think I'm living my dream thanks to coming from ECSU," he said.
Jonas Pope is another ECSU graduate who is living his dream. Pope graduated in 2002 and since that time has become a popular sports journalist, currently working for the Raleigh News and Observer.
He suggested that students who are looking to break into journalism be willing to start out working anywhere they can, and even for no pay. He says the key is to get those bylines on articles and start building a base that will land them a job.
Pope also says that it's important to find something that "doesn't feel like work."
"I like writing," he said. "It didn't feel like work and it still doesn't feel like work."
Michael "DJ Fountz" Fournier began his on-air career as a student, first at Appalachian State, and then continued it once he transferred to ECSU. Since then he has become one of the most recognizable voices in Virginia, nominated for "Billboard Mixeshow of the Year."
Fournier said the radio business has changed dramatically thanks to digital technology. When Fournier began working as a student at WRVS, he was cutting and splicing tape by hand, to produce a final product. These days, it's as simple as pressing a button.
"I honestly don't know how we did it," Fournier said of cutting and splicing tape. "But that's the love. It was a hassle but I'm glad we had to do it."
The four ECSU alums talked about the advantage of working for WRVS as students. It was, they said, a solid training ground that gave them the freedom to experiment with shows, play a variety of music and prepare them for a career in communications.
Also on the panel was Greensboro-based singer/songwriter Sheika Asali. An up-and-coming artist, Asali talked about the work she puts in to develop her style, and pursue her dream as a singer/songwriter.
---