Young Alumni Day at the Department of Business & Economics Inspires Students
---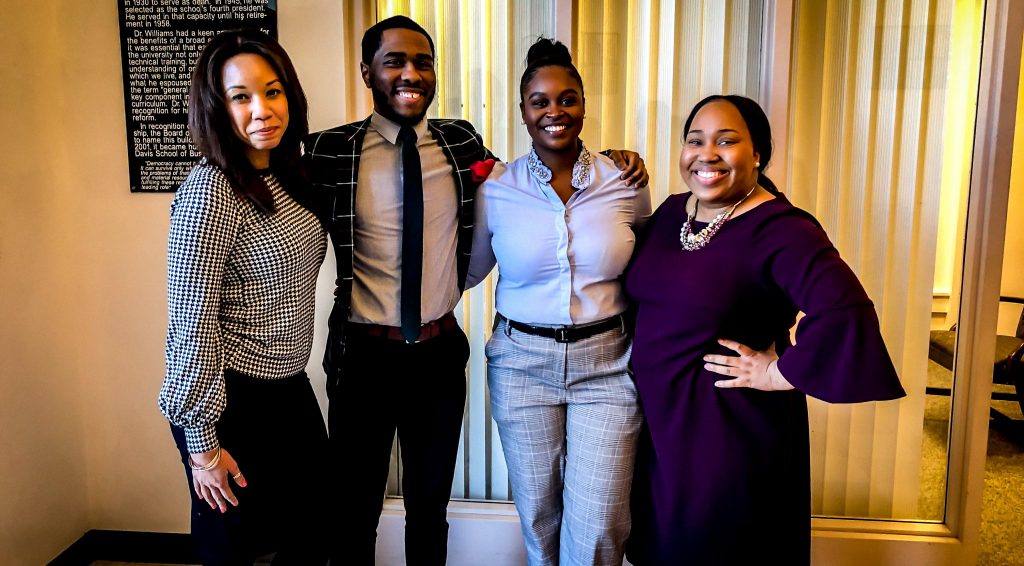 ECSU Business and Economics graduates Chanae LeGrier, Quinten Keyes, Taylor Robinson, and Jonelle Brown returned to campus Wednesday, March 27 to share their experience with current students.

There's nothing like a little shared experience to get you motivated about the future. That's what happened Wednesday, March 27 when a group of Elizabeth City State University Department of Business and Economic graduates came on campus to speak with current students.
According to business professor, Dr. Debjani Kanjilal, four alums connected with students throughout the day, visiting several classes and talking about their career paths and experience after graduation.
"Their lectures also included tips on writing a good resume and making oneself ready for graduate school and the job market," said Dr. Kanjilal.
Students are also learned about job and internship opportunities, she said. It was something the alums were excited to do for current students, Dr. Kanjilal explained.
"They said they wanted to give back to the institution and thus chose to visit the department and motivate our students," she said. "They plan to continue visiting the campus to connect with our current students in the upcoming semesters and add more former students to the Young Alumni group."
Three of the alumni visiting campus Wednesday went on to earn Masters in Business Administration degrees. One is preparing to enter an MBA program this summer.
Chanae LeGrier, the ECSU class of 2014, completed her MBA from UNC Greensboro and is currently working as a marketing consultant at  Eli Lilly & Company in Indianapolis, Indiana.
Quinten Keyes, the class of 2013, received his MBA from Alabama A & M University and is currently working with the Department of Defense in Washington D.C.
Taylor Robinson, class of 2013, received her MBA from UNC Greensboro and is currently working as a patient access specialist at AMGEN in Chesapeake, Virginia.
Jonelle Brown, class of 2012, is currently working as a marketing coordinator at AAFMAA in Fayetteville, North Carolina and will begin the MBA program at Fayetteville State University this summer.
---