Young Alumni Come Home to Inspire Business Students
Posted On October 29, 2019
---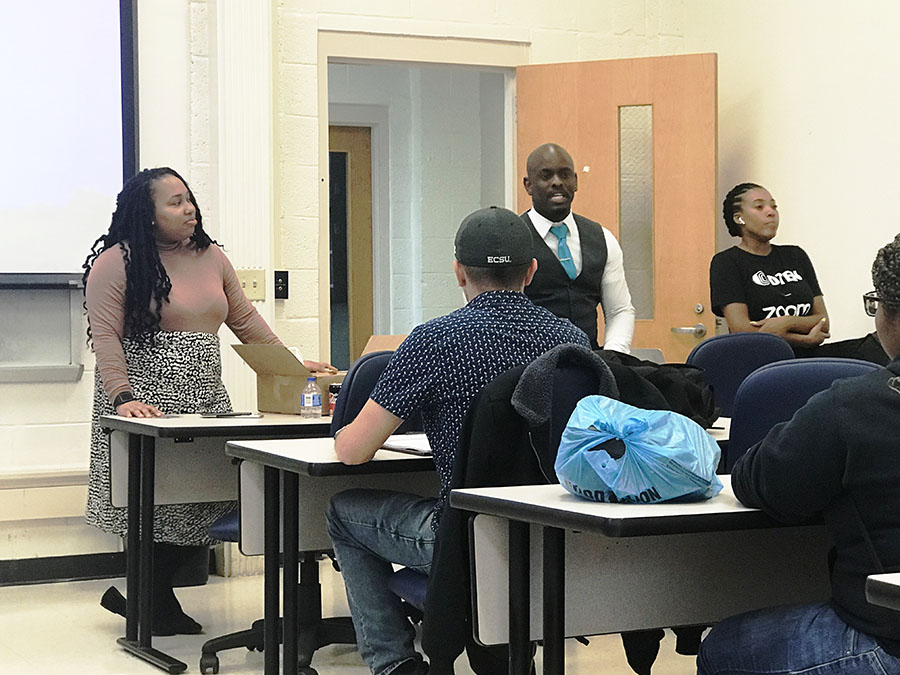 ECSU alumni, left to right, Chanae LeGrier, Qunintin Keyes, and Natasha Jones speak to students about the professional life after graduation Monday, Oct. 21.
What does it take to transition from being an undergraduate at a university to becoming a professional in the workplace? That's what several Elizabeth City State University graduates came home to share with current students.
The ECSU Department of Business, Accounting and Sports Management invited four alumni to sit down with students to discuss transitioning into the professional world, and to talk about how they can make the best of their time on campus. The ECSU alumni met with business students throughout the day Monday, Oct. 21, and then sat down inside a Williams Hall classroom to answer a few questions.
The discussion was moderated by 2014 graduate, Chanae LeGrier. Ms. LeGrier is a marketing consultant with Eli Lilly.
Joining Ms. LeGrier was Quintin Keyes, a 2013 graduate working as an accountant for the Naval Facilities Engineering Command; Netasha Jones, a 2014 graduate working in business development for Zoom Video Communications; and Brian J. Fernander Jr., a 2014 graduate working as a financial and portfolio advisor for Merrill Lynch Wealth Management.
Ms. LeGrier started the conversation by asking her fellow alumni to discuss the importance of mental health in the development of a career path.
"I had this notion that once I graduated I would work a job," said Mr. Fernander, who stressed that patience is important when launching into the professional world. He said while his expectation was a job right out of school, he realized that he would have to exercise patience and acceptance when it became clear the pursuit of his goals would take time.
Ms. LeGrier then asked Ms. Jones to discuss how geography plays a role in salary. Her personal experience was paramount to the topic.
While Ms. Jones is now living and working in Atlanta where she can be both productive and live comfortably, getting there was a journey that informed her understanding of salary and geography.
She started her career in Virginia, but would soon move to Los Angeles. She accepted a position in a Southern California city at the same salary she was making in Virginia.
"But the living expenses were high," she said.
Ms. Jones says that living in Atlanta, she makes the same salary, but life is less of a struggle in the Georgia capitol.
"When you are looking at a position, see what other people are making," Ms. Jones advised students.
On the question of dressing for success, Mr. Keyes recommended that students be "trendy but nice." Mr. Keyes was dressed in business attire.
The question of education was also probed. Some, said Ms. LeGrier, have said an HBCU education is not as good as one earned at a PWI, or predominantly white university.
"I thought my friends had more opportunity because of the name on the degree," said Ms. Jones. "That is absolutely not true."
Ms. Jones said even among HBCUs, there are some schools such as Howard University, or Spellman College, that evoke prestige, but it's not about the institution, rather it's about what students do with their education.
"Experience matters," she said. "Be articulate and be passionate."
Experience on campus does matter, according to Mr. Keyes. He suggests students be mindful of the opportunities available to them. He also suggests students find organizations that will not only give their resume a boost, but also give them personal experience.
He said while there are a number of outside organizations such as the National Association of Black Accountants, don't forget the experience you can gain by being a part of campus organizations such as the Student Government Association.
"Make sure you're taking the opportunity to make meaningful connections with people," he said.
Mr. Fernander told students to "take advantage of every opportunity." Ms. Jones said "reputation matters."
This is the second business administration and accounting alumni visit organized by the department. Last spring the department held a similar event featuring four ECSU graduates, including Ms. LeGrier and Mr. Keyes.
---