'You Need to Believe, Too': Chancellor Gives State of University Address
Posted On January 3, 2019
---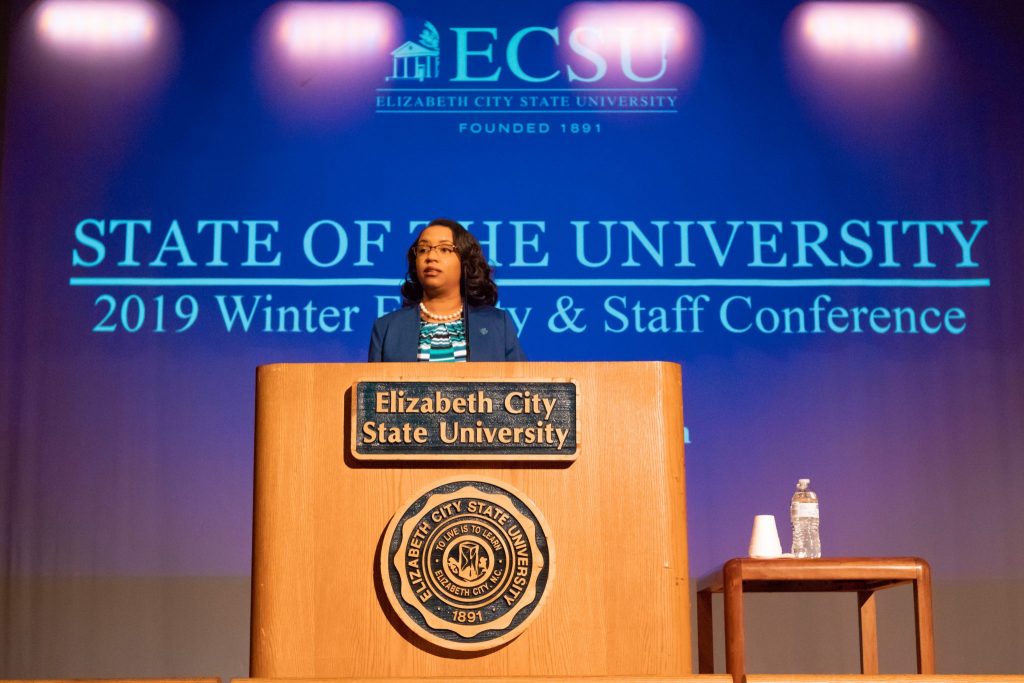 Speaking at the January 2019 Faculty and Staff Institute, ECSU Chancellor Karrie Dixon gives her State of the University Address. Dr. Dixon outlined priorities for the coming year and emphasized the need for all hands to be on deck to make growth and change happen at the university. (Photo By Michael Harris)
In her first official address to the Elizabeth City State University campus community since being named Chancellor by the UNC Board of Governors last month, Dr. Karrie Dixon spoke of hope and a bright future for the historic institution, but warned that growth and change will take all hands on deck.
"I charge you that everyone in your boat is rowing and not drilling holes," said Dr. Dixon during the Jan. 3, 2019 Faculty and Staff Institute State of the University Address.
Dr. Dixon took charge of ECSU in April 2018 as interim chancellor. After a national search process reviewed a number of candidates for the university's next leader, the UNC System veteran was chosen to continue her leadership, taking ECSU into the future.
Dr. Dixon, in her speech Thursday morning, outlined the next steps toward a strong future for ECSU. Over the next six to eight months, ECSU will undergo the development of a new strategic plan that will outline purpose, where we are going, and how we are to get there.
"A solid strategic plan with a strong team to take us forward," she said.
Dr. Dixon also outlined top priorities for ECSU:
Enrollment: the two critical elements are recruitment and student retention. She said it is important faculty and staff understand that while high school recruitment is and will remain an important factor in enrollment growth, there is much more to be done "beyond the high school pipeline." Transfer students from either two-year or other four-year institutions, military personnel, and non-traditional students are important components. And student retention is also a top priority, she said.
"Put the necessary services in place to meet the needs," said Dr. Dixon.
Marketing: Dr. Dixon said over the past year marketing efforts have been reflected in the growth and exposure of the university. She lauded efforts to market ECSU despite a tight budget. More, however, needs to be done.
"In order to be competitive, we must bring our brand to the forefront," she said. "Students have options and we want ECSU to be that option."
Marketing efforts over the past year have largely focused on the university's aviation program. Dr. Dixon said that this signature degree program will be ECSU's niche and the country will know that the institution is the only four-year school in North Carolina to offer a degree in aviation – and has a fleet of nine aircraft to train pilots.
"When it comes to what makes us unique and different, this is it," Dr. Dixon said of the aviation program.
Renovations: It's no secret that a number of campus facilities are undergoing renovations. It is a priority, said Dr. Dixon, which will serve the university moving forward. The renovation of Butler Hall, for example, will allow ECSU to provide more beds for more students. But renovating the campus also instills pride in place.
"We want students to love where they live and learn," said Dr. Dixon.
Dr. Dixon also wants faculty and staff to love where they work. She said employee morale is important and the university staff has been working to improve things since she took over the leadership role last spring.
"We've come a long way but we can do better," she said, emphasizing that a positive attitude and outlook at work means a better and more productive university.
"I want you to love where you come to work," said Dr. Dixon.
Dr. Dixon emphasized what she refers to as A.C.E., or Accountability, Commitment, Excellence. She is asking that all ECSU faculty and staff adhere to these three principles, emphasizing that these words are not simply rhetoric, but rather goals.
Each person should hold him or herself accountable, be committed to ECSU and to the pursuit of excellence.
"I applied for this job because I believe in ECSU," said Dr. Dixon. "You need to believe, too."
---