WRVS-FM Student Volunteers Gain Valuable Broadcast Experience
---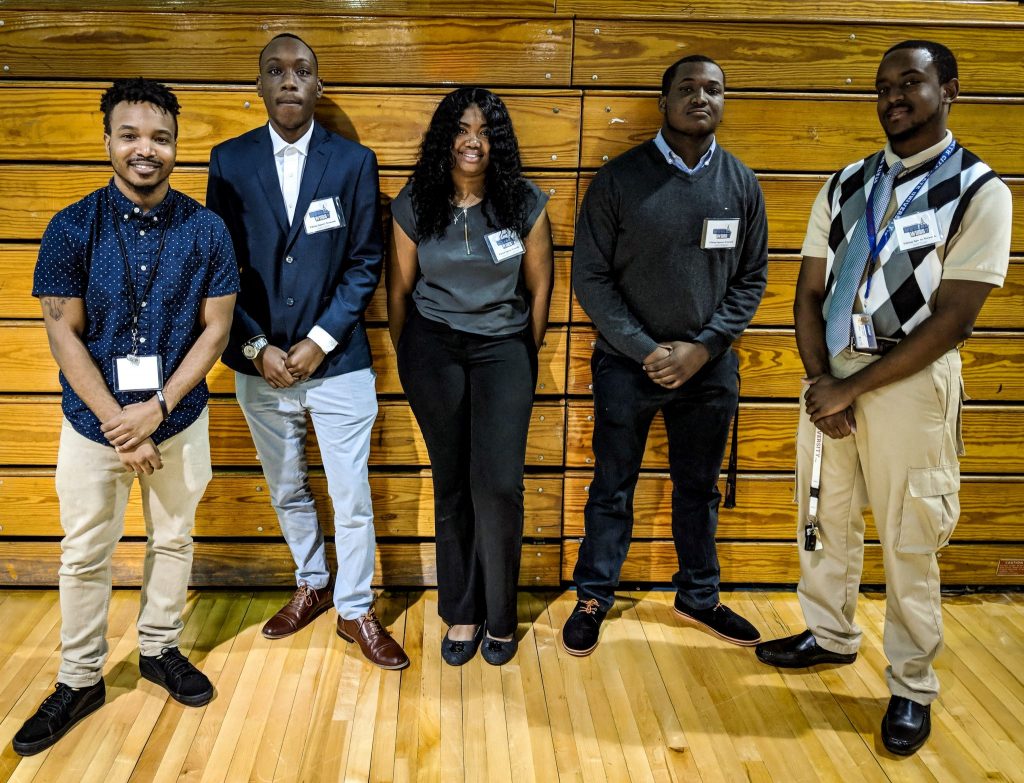 ECSU student volunteers working at WRVS-FM, the campus radio station, recently received a little sports broadcasting experience. Students who participated are, left to right, Miquel Washinton, Lewis Sutton, Shavante McKinney, Jarvis Riddick, and Kent Cash.
Elizabeth City State University's volunteer radio broadcasters traveled to Hampton Roads, Virginia last week to gain some valuable sports broadcasting experience.
According to WRVS-FM 89.9 production director, Clay Mercer, ECSU students Miquel Washington, Lewis Sutton, Shavante McKinney, Jarvis Riddick, and Kent Cash traveled to Granby High School in Norfolk, Virginia. It was there that the semi-prof basketball team, the Hampton Roads Warriors, took on the Florence (South Carolina) Wildcats.
Students received hands-on training with interviews, commentary and video. Mercer says each skill will help the students achieve their goal of working in sports broadcasting.
"We always encourage our students and staff to seek opportunities like this," said Mercer.
Mercer says back in January, members of the Hampton Roads Black Media Professionals, Inc. came to the ECSU campus to speak with students interested in media. It was then that ECSU student Lewis Sutton pursued the opportunity for student broadcasters to learn more about sports radio broadcasting.
Sutton, a sophomore, currently works with the ECSU Viking Sports Network providing coverage of ECSU football games.
Mercer says WRVS-FM is currently in the process of strengthening its sports broadcasting team to provide better coverage of ECSU and high school athletic events. Any ECSU student interested in sports broadcasting can visit the radio studio inside Williams Hall, send an email to wrvsfm@gmail.com, or call the station at 252-335-3518.
Students such as Sutton have been benefitting from WRVS-FM for more than three decades now. The campus radio station celebrated its 33rd anniversary this month, serving the communities of Northeastern North Carolina and Hampton Roads.
WRVS-FM signed on the air for the first time on March 18, 1986 at 6 p.m.
---