WRVS celebrates 25 years of broadcasting; Media symposium held on March 26
---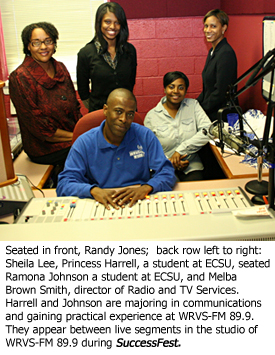 Melba Smith and Kesha Williams
March 28, 2011
This year, WRVS FM 89.9 is celebrating 25 years of broadcasting. During the week of March 20-26, 2011, the students, staff, and volunteers marked the station's silver anniversary with its annual membership drive, SuccessFest. &ampnbspAlthough the fundraiser is held during a single week, donors are encouraged to continue sending donations to support this public broadcast radio station. Funds raised are used to offset the expenses of daily operations, quality programming, staffing, student training, and equipment upgrades.&ampnbsp
SuccessFest paid tribute to the late Greg &quotSampson&quot Lange, the former production director, interim program director for WRVS-FM 89.9 and host of shows such as &quotMotown Monday,&quot and &quotThe PM Cruise.&quot&ampnbspTo recognize Lange, a commemorative brick will soon appear on the Viking Promenade with other bricks on the Viking Walk of Fame. That commemorative brick appears courtesy of staff in the Division of Institutional Advancement. At the conclusion of the week, WRVS will host its 25th Anniversary &ampamp Reunion where former and current staff, students and community volunteers will gather to celebrate the accomplishments of WRVS.&ampnbsp Melba Brown Smith, director of Radio and TV Services, says the 25th anniversary is a milestone the community can celebrate.
&quotThis public radio station provides listeners with great shows from NPR as well as original programming by students and staff. We hope our listeners will continue to enjoy the variety of our programming. Most of all, want our donors to realize how much we appreciate their support,&quot Brown said. &quotWe're looking forward to the media symposium so our students can talk with people who are working in the kinds jobs the students will hold in the future. &quot
The week-long celebration included a welcome reception, a bowling party, campus and station tours, as well as socials.&ampnbsp A media symposium will begin at 8:30 a.m. Saturday, March 26 in the K. E. White Graduate Center and included remarks by Dr. Willie J. Gilchrist, chancellor of Elizabeth City State University&ampnbsp William Smith, vice chancellor of Institutional Advancement and Ann Hoffman, publisher of The Daily Advance.&ampnbsp The symposium also included a keynote address by founding WRVS general manager, David C. Linton, as well as a panel discussion and networking session of media professionals representing various areas in media.&ampnbsp Panelists were:&ampnbsp Mr. Dwayne Collins (Voice of America), Mr. Larry Moore (Moorehouse Productions), Ms. Krystle Lee (Mount Lebanon Baptist Church &quotThe Mount&quot), DJ Fountz (103 Jamz), and Mr. Will Harris (The Daily Advance), Ms. Kesha Williams &ampnbsp(ECSU Office of University Relations and Marketing).
Want to help support WRVS?
Call in your donation or pledge of support to (252) 335-3515 or 800-868-4491
between the hours of 6 a.m. and 6 p.m.
---