WRVS 89.9 FM Celebrates 35 Years on the Air with SuccessFest
---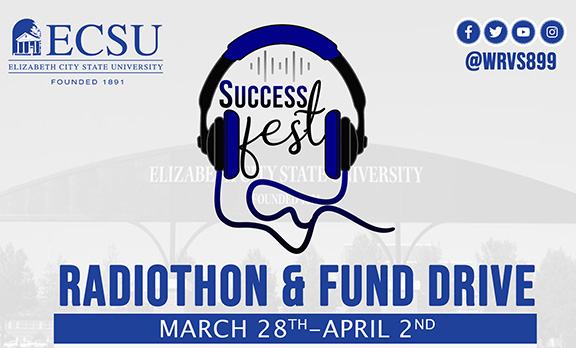 Elizabeth City State University's public radio station, WRVS 89.9 FM, is celebrating 35 years on the air this month with SuccessFest, its biannual membership drive and week-long radiothon, kicking off March 28.
According to ECSU's director of radio and television services, Melba Smith, this biannual fundraising campaign aims to raise $15,000. While the membership drive and radiothon runs through April 2, fundraising efforts will continue on through June 30.
"Our SuccessFest 2021 Spring Membership Drive will feature a Divine Nine Greek challenge, exclusive music mixes hosted by former students and volunteers who are now professional DJs, and a special presentation of Facebook video testimonials from current and former student staff members," said Ms. Smith.
Giving is easy with online access HERE, by texting WRVS to 41444, or by calling 252-335-3985.
"Funds raised during SuccessFest support student training, community outreach, quality programming, and general station operations," Ms. Smith said.
WRVS is the only broadcast facility locally providing viable programming including NPR and original programs such as "Conversations with the Chancellor," "River City Reviews," "Morning Joy Career Center Corner," "High School Game of the Week," and more. The station has been a service to Northeastern North Carolina and Southeastern Virginia for over 35 years.
WRVS also trains high school and college students interested in pursuing careers in radio broadcasting. The station has been a training ground for many ECSU students who now work in the industry as skilled broadcasters and professionals at renowned media organizations around the country.
At the time of its launch, in 1986, WRVS operated as 90.7 FM, a 10,000 watt, 18-hour station. The station was created by former ECSU Chancellor Jimmy Jenkins.
In 1990, the station received several upgrades, including a new transmitter allowing an effective radiated power of 41 kW as well as a new frequency of 89.9 MHz. On July 3, 1996, the station went dark for weeks due to water and smoke damage to equipment caused by an electrical fire that occurred upstairs in Williams Hall. The station signed back on in October and later went to a jazz-based format as "Jazzy 89-Nine."
In 2003, the station reverted to its original and current Urban Adult Contemporary based format and then moved from an 18-hour format to broadcasting 24 hours a day. On Sept. 25, 2008, WRVS-FM, 89.9 completed its digital conversion and on Sept. 28, 2008, launched its digital broadcasting stream using iBiquity Digital Corporation's HD Radio TMtechnology.
In August 2020, WRVS gave new life to its previous format by announcing the launch of Jazzy 89.9, a new radio station featuring jazz music through its HD2 signal. The station extended its jazz offerings on WRVS-FM to give listeners a 24/7 platform. A complete schedule of featured shows is available at www.ecsu.edu/wrvs.
---