WRVS 89.9 FM 10th Annual Back to School Bash Aug. 22
Posted On August 16, 2021
---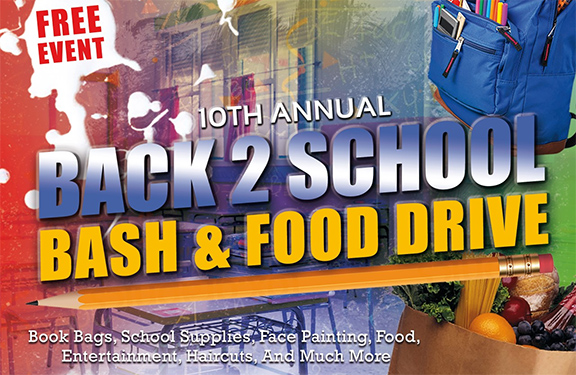 Kids are headed back to school, in-class, and that means it's time for the 10th annual WRVS 89.9 FM Back to School Bash and Food Drive on Aug. 22. Elizabeth City State University's public radio station, in cooperation with a number of community organizations, is striving to make a return to school as eventful and helpful as possible with this highly anticipated event.
Last year, the event was a "grab and go" drive-through due to COVID-19 precautions. As vaccinations are on the rise, and precautions are being made to ensure safety – masks are required for this event – WRVS station manager Melba Smith says her team is excited to return to an in-person event.
"We're excited to have the Back to School Bash back in full swing this year and in-person," said Ms. Smith. "Our goal this year is to continue impacting our community in positive ways by providing free school supplies, personal care products, haircuts, health and wellness information, and other resources for K-12 students that will help them prepare for a safe and productive 2021-2022 academic school year."
The event will be held at the R.L. Vaughan Center on the ECSU campus. The Aug. 22 event takes place from 10 a.m. to 2 p.m.
The event and all of the giveaways are free. Here is a list of what to expect:
Bookbags (K-12 children must be present)
School Supplies (K-12 children must be present)
Haircuts, including a mobile barber lounge (K-12 children)
Food
Face Painting
DJ
Games/Activities
Raffles (salon vouchers for girls, WRVS prize packs, and more)
Dental Screenings
One-on-One School Immunization Consultations
COVID Testing
COVID Vaccinations
Community Vendors providing an array family resources and information
Special appearances by the ECSU D'Lytes Cheering Team and the ECSU Marching Sound of Class.
Partners for this year's event are WRVS 89.9, W18BB-TV, ECSU, the Elizabeth City Police Department, Elizabeth City/Pasquotank County Parks & Recreation, Small Business & Technology Development Center, Sentara, and Whiting-Turner.
---