With 15 Graduates and More on the Way, the Bowser/Carter Family is an ECSU Legacy that Keeps on Growing
---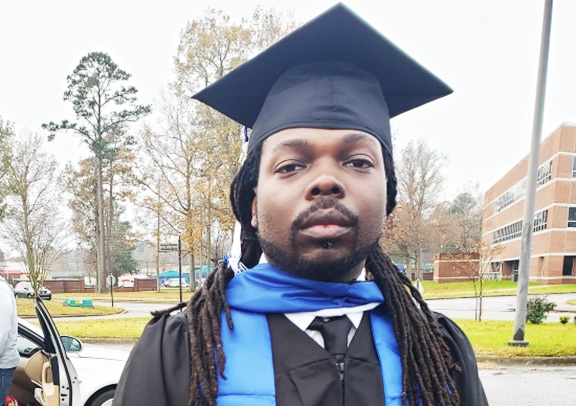 Ronald Bowser, Jr. graduated from the university's online Interdisciplinary Studies program in fall 2020. He is one of 15 members of his family to graduate from ECSU.
Legacy. It's a word that can be applied to a number of families whose lives have been touched by Elizabeth City State University. Multiple family members have launched a successful life from the campus of ECSU over the 130 years of the school's history, and the Bowser/Carter family can count themselves among those. 
"ECSU means a lot to me," said Doris Carter Bowser, a 1983 graduate now living in New Orleans, Louisiana. "I have so many family members on both sides who graduated from there."
In fact, Mrs. Bowser's family can count 15 ECSU graduates and two current family members as students among them. Her son Ronald Bowser, Jr. is the most recent graduate, taking his diploma in the fall of 2020 from the university's online Interdisciplinary Studies program.
Mr. Bowser began as a student at ECSU in 2005 when his family returned to their hometown in Elizabeth City after fleeing the catastrophe that was Hurricane Katrina. Mrs. Bowser said her son began by following in his father's footsteps, studying geology.
He stayed at ECSU until he returned home to New Orleans in 2008, never finishing his degree work. But Mr. Bowser was determined to finish what he had started and continue the family legacy.
According to Dr. Charles Reed, director of ECSU's online Interdisciplinary Studies program, Mr. Bowser returned to his studies in 2018.
"As an Interdisciplinary Studies student, he was able to use, integrate and apply what he had learned in previous coursework to develop a coherent and valuable degree," said Dr. Reed.
Dr. Reed points out that students such as Mr. Bowser benefit from the many opportunities offered at ECSU, specifically when online programs are an option. That fact made all of the difference for Mr. Bowser, he said.
"Opportunity has always been a part of ECSU's mission and through its online degree programs such as Interdisciplinary Students and Homeland Security, new pathways to the future are open to students," said Dr. Reed.
The Bowser/Carter family legacy started with Mrs. Bowser and her husband Ronald Bowser, Sr. They were both the first in their families to graduate from college, a fact that paved the way for 13 other graduates and the two current students on campus.
Mrs. Bowser's daughter, DeNesha Deans, graduated with a degree in graphic design. She had struggled in the beginning, said Mrs. Bowser, but eventually graduated with a 3.4 GPA in 2017.
Mrs. Deans now works as a graphic designer in Goldsboro, North Carolina. Her husband is also an ECSU graduate.
Mrs. Bowser's sister, Hope Carter Fenstermacher, is a 1987 graduate. She was Miss ECSU.
Both sisters grew up in Elizabeth City. Their mother was a well-known seamstress who, while not being an ECSU alum, would make her mark on Viking history by creating the first Miss ECSU robe for the homecoming parade, said Mrs. Bowser.
With her family's roots firmly planted in Elizabeth City and ECSU, Mrs. Bowser says she looks forward to regular visits to town and campus. And while the recent COVID-19 restrictions have put a damper on her regular returns, she says she is looking forward to being back on her beloved campus in the near future.
Other family members who have graduated from ECSU include:
Melicent Knight Rodgers, Class of '69;
Susetta Bowser Johnson, Class of '77;
Katrina Bowser Burke, Class of '79;
Barbara Banks Phillips, Class of '83;
Michael Bowser, Class of '86;
Tonya Banks Daniels, Class of '99;
Michelle Bowser Jones, Class of '04;
Maria Bowser, Class of '11;
Telesha Burke, Class of '11;
Miracle Brumsey Whitaker, Class of '15.
---