Washington Monthly ranks ECSU #1 again
Posted On August 26, 2014
---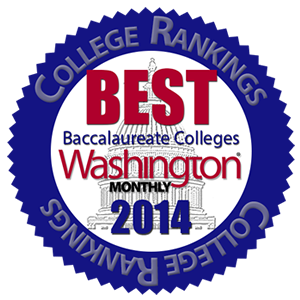 Kesha Williams
August 26, 2014
Elizabeth City State University is first among baccalaureate colleges for the third year in a row in the latest rankings by Washington Monthly's College Guide.
The publication's rankings were released Monday in the annual September-October College Rankings guide. It measures institutions based on their contribution to the public good in three major areas: Civic engagement, research and social mobility. Instead of crediting colleges that reject the most applicants, Washington Monthly gives high marks to colleges and universities that contribute to society, enroll students from low-income families and help them to graduate while not charging a fortune to attend.
In terms of the total resident fees, ECSU is the most affordable public option in the University of North Carolina system. According to Washington Monthly editors, &quotWe all benefit when colleges produce groundbreaking research that drives economic growth, when they put students from lower-income families on the path to a better life, and when they shape the character of future leaders.&quot
Institutions are ranked in the following categories: national universities, master's university rankings, baccalaureate college rankings, best-bang-for-the-buck rankings and affordable elites college rankings.
ECSU Chancellor Charles Becton said he is thrilled to see ECSU ranked No. 1 in the Baccalaureate Colleges category for the third consecutive year. &quot
Washington Monthly clearly recognizes this university's value to this region. What ECSU has done, with limited resources, is truly remarkable,&quot he said.
Dr. Flora Bryant Brown, interim vice chancellor for Academic and Student Affairs, also took great pride in the ranking.
&quotThis recognition is a testament to the hard work of the university community and our strong commitment to help students succeed,&quot Bryant Brown said.
---