Visual Arts Students Look to Make their Mark on Downtown
Posted On November 1, 2019
---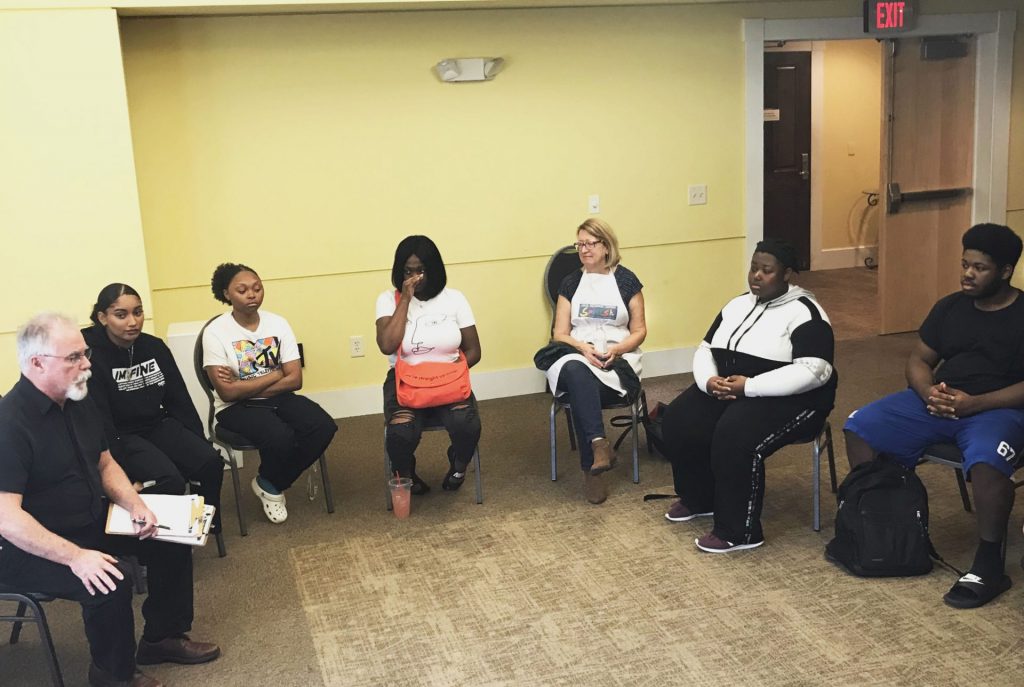 Visual arts professor Jeff Whelan, left, leads a Plan by Design discussion at Arts in the Albemarle in downtown Elizabeth City Thursday, Oct. 31. Visual arts students are tasked with developing creative ideas to contribute to downtown Elizabeth City's revitalization efforts.
Elizabeth City State University students have been leaving their mark on downtown Elizabeth City's revitalization efforts for some time. It may not be readily apparent, but some of the current efforts to restore buildings and bring life back to the waterfront district have been sparked by visual arts students working with visual arts professor, Jeff Whelan.
That effort is a visual arts project known as Plan by Design. The idea, according to Mr. Whelan, is for students to see the possibilities of a new future downtown, create a project proposal, and then present it to city leaders.
"The theory, or premise, (of Plan by Design) is that the arts is a nexus," said Mr. Whelan. "Every kind of need can be met, basically, through cooperative ideas."
ECSU visual arts students gathered in Arts of the Albemarle's Maguire Theatre downtown for a roundtable discussion. Community members, mostly local artists, joined the students to talk about what sort of downtown needs could be met through art and design. The talk was held to coincide with the arts center's annual SPLASH event, a gathering of artists from across the state.
Back in 2012, a visual arts freshman, Carrie Seufer, presented a Plan by Design project to the city. That project would ultimately lead to the renovation of a highly visible downtown structure, the Weatherly Building.
Mr. Whelan said that while Ms. Seufer's proposal was taken and changed over time, it was her effort that led the way to restoring the historic building. It is currently under construction and will be an apartment building that includes an artist studio/gallery space on the ground floor.
Throughout the discussion, local artists such as Carolyn Peel contributed to the exchange of ideas. Mrs. Peel pointed out that there are a number of areas where ECSU could contribute to downtown revitalization through the arts. She said that it would be a big boon for the community if ECSU had a permanent, bricks and mortar presence downtown, dedicated to the visual arts.
"One of the big questions we have as an older generation," said Mrs. Peel, "is how do we get you kids downtown?"
ECSU visual arts student Casandra Tynes responded to Mrs. Peel, citing a need for more "hands-on activities."
"Things other than boutiques," she said.
Isis Saunders, also a visual arts student, said offering programs aimed at students, and marketing them aggressively on social media would be one way to bring ECSU students downtown.
Mr. Whelan said the roundtable discussion was only the first phase of the Plan by Design effort. After meeting with members of the Elizabeth City town council, students were tasked with exploring downtown, taking photos, making sketches, and developing ideas.
He said there is a recent resurgence of interest in the arts as community projects, such as murals. His students will have the opportunity to be a part of that effort, and leave their lasting mark on Elizabeth City.
"Come in with a fresh eye. Get pictures of everything and anything. Because a lot of cool stuff is happening," he said.
---