Vikings Rise to the Occasion, Fall 2020 Semester a Big Success
Posted On November 24, 2020
---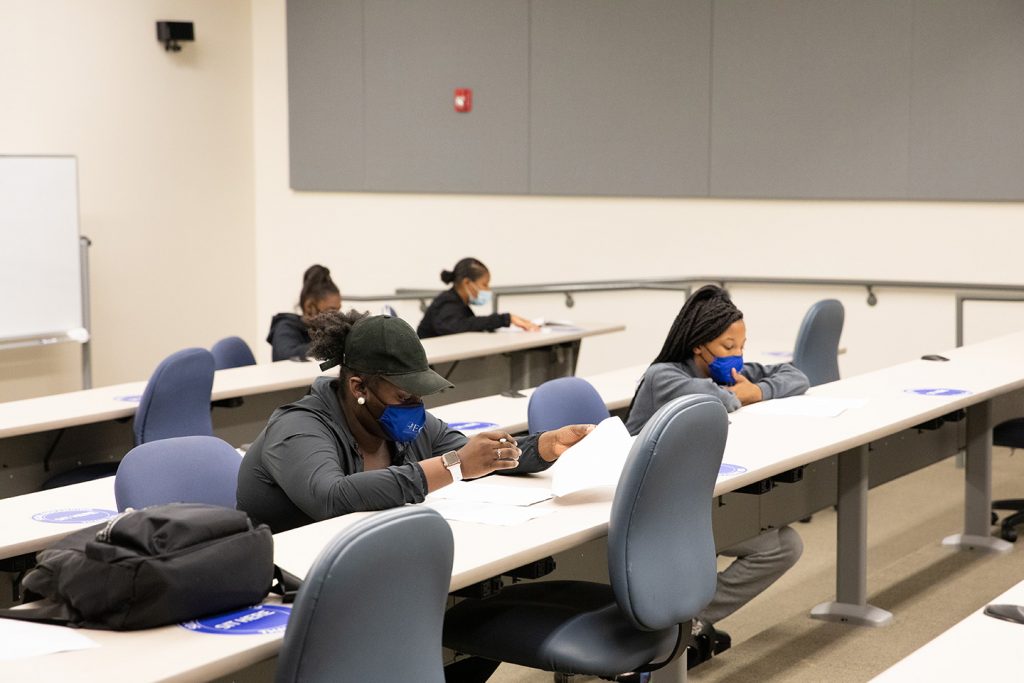 The Elizabeth City State University campus is quiet now. Students are on their way home for the holidays and faculty and staff are taking a breath as they head into a brief break for Thanksgiving. None of that is unusual except that all of this is taking place in the midst of what is arguably one of the most challenging times in ECSU's history, the COVID-19 pandemic, and that makes the success of fall 2020 semester even more significant.
The success of fall semester is highlighted by the fact that the Viking community has risen to the challenge and proven its resilience.
With the semester starting off celebrating record enrollment growth, student engagement and achievement and a number of high-profile research grants awarded, the fall semester would be deemed a success under any circumstance. But Vikings were faced with the challenge of returning to campus after moving to remote instruction in the spring to minimize the spread of COVID-19.
"Thanks to the hard work, dedication, and the conscientious effort of our campus community to stay safe during these unprecedented times, ECSU has shown that it can do what it takes to succeed even in the most challenging environment. Vikings are resilient," said Chancellor Karrie G. Dixon.
Under Chancellor Dixon's leadership, there have been clear directions and expectations, establishing a culture of accountability while maintaining academic integrity, student engagement and a safe environment. Along with her senior leadership team, university employees from administrative to facilities to faculty, ECSU has worked hard to have a successful fall semester.
"Chancellor Dixon's leadership this semester has been outstanding," said ECSU's outgoing staff senate president, Melanie Baker. "The way she has led her team with a strategic back-to-campus plan, and the transparency and consistent communication have made the campus feel secure in their working environment."
The challenges on campus included the preparation of a new academic calendar, a business operations plan, and preparing and maintaining a safe campus environment.
The planning and execution of the return to campus began last summer, and Facilities Director Dennis Leary says efforts to create a safe environment were the highest priority for his team, and those efforts have been successful. Preparing classrooms, residence halls, and offices and maintaining a sanitized environment to prevent the spread of the virus were Facility's primary mission.
"The biggest success was that the Chancellor was able to allow us to bring in temporary housekeeping staff to handle the workload," said Mr. Leary. "That was tremendous. We doubled, almost tripled the number of people to handle sanitizing the campus."
Another key component to campus safety was the comprehensive presence of signage across campus, directing people to observe social distancing measures, wear masks and maintain a safe environment. Signage was also used to educate the campus community on the COVID-19 symptoms and what to do if they experienced those symptoms.
While Facilities worked diligently to keep the campus clean and safe, Academic Affairs, led by Provost and Vice Chancellor for Academic Affairs Farrah J. Ward, created an academic calendar designed to give students a quality education while remaining safe and healthy. At the start of the fall semester, 41 percent of the classes were online, and another 33 percent were hybrid. The calendar also started a week early and removed holidays and breaks, so the institution could end fall semester at the Thanksgiving holiday.
According to psychology professor, Dr. Kulwinder Kaur-Walker, the academic semester has been a success, seeing good attendance by students both in-person and remotely, and they have, she said, "adjusted to the new normal."
"The semester has gone very well," she said.
Another key component in the success has been to keep the number of people on campus at a minimum. A number of employees continue to work remotely, providing ECSU with the services necessary to operate while keeping the spread of the virus down. Remote teaching and learning and teleworking were made possible through the technologies and support made available from the Division of Information Technology. Technology enhancements also enabled offices to provide virtual meetings and appointments to serve students and their families remotely.
Limiting the number of in-person classes allowed the campus to move classrooms into larger spaces and accommodate social distancing. Likewise, residence halls were organized to accommodate social distancing and the measures put in place have been successful, said Bria Webb, community director for Viking Village and University Suites residence halls.
"Our COVID guidelines are working and our infection numbers are low compared to other institutions," said Ms. Webb.
Only 63 student cases and nine employee cases were reported across campus during the fall 2020 semester.
The guidelines to stay safe and healthy work if people apply them and according to Ms. Webb, students have been towing the line in an effort to stay on campus and complete their coursework successfully.
"They hold each other accountable," she said, "and make sure they are all following the guidelines."
Student Government Association (SGA) president, Jimmy Chambers, Jr., agrees. He and his fellow students have worked to maintain accountability, and, he said, students have made it clear that they want to be on campus, leading them to maintaining that accountability. And with record enrollment this semester, it's clear that Vikings are not only taking the pandemic seriously, they're also taking their education seriously.
While students have been doing their part, Mr. Chambers says they are also grateful for the leadership coming from the administration, staff, and faculty.
"I really have to commend Vice Chancellor Alyn Goodson and his team for making sure that students are safe," said Mr. Chambers. "I also have to say that my fellow Vikings have done an outstanding job wearing their masks and following all of the CDC guidelines. It wasn't always easy, but here in Vikingland, all Vikings are resilient."
Keeping students engaged on and off campus has also been key to a successful semester. The Division of Student Affairs, led by Vice Chancellor Gary Brown, along with the SGA and the Campus Activities Board (CAB), implemented a number of programs from academically focused programs, such as Sister-to-Sister and CHAMPION Scholars designed to engage freshmen men and women, to activities and events to connect students. The utilization of the Vikings Engage app connected students to not only virtual business operations and key deadlines, but also to campus activities and virtual events, in lieu of in-person events.
All of this has served to not only engage students, but also provide incentive to follow the safety guidelines and keep the rate of infection to a minimum.
While guidelines are in place to ensure the physical well-being of the campus community, mental well-being has also been a top priority for ECSU. To that end, director of student counseling, Jody Grandy, has been working to expand options for students who are experiencing stress during these challenging times.
From traditional counseling to a new, virtual self-help program, Therapy Assistance Online (TAO), students have the benefit of professional assistance that promotes well-being and focuses on preventative measures to maintain a sense of mental and emotional balance.
"Students are resilient and able to work through their stress," said Ms. Grandy. "We have seen students using our services."
While many of ECSU's divisions and departments have been working in the background to maintain a safe campus environment, Student Health Services has been on the frontlines. According to Student Health Services Director Gloria Brown, guidelines and protocols are being followed and she's grateful that the number of infections has been low. Testing, contact tracing and quarantining have been instrumental in minimizing the spread of the virus.
"Partnerships across campus with their rapid response have made it possible to keep the positivity rate low on the campus of ECSU," said Ms. Brown.
One such partnership came in the form of the $1 million COVID-19 Mitigation grant. The grant has given ECSU the resources to provide rapid testing across campus and throughout the Northeastern North Carolina region. The testing, which supplemented the testing conducted by Student Health Services, is conducted by a team of ECSU faculty and undergraduate and graduate students.
Campus-wide communication has also been a key factor in the success of the fall semester. Maintaining an open line of communication with the Viking community has afforded the campus a peace of mind that is important any time, but especially during challenging times.
"Our communications and marketing team continues to work hard and employ the best practices available to us to keep the campus informed," said Michelle Ball, Executive Director for Strategic Communications.
While the Communications and Marketing Department has continued to produce informative social media posts, marketing campaigns, and stories, two additions to their efforts have been key in keeping the campus informed. The Viking Compass webpage was created specifically to maintain a constant flow of information regarding COVID-19 on campus. Likewise, a series of virtual town hall meetings and regular emails from the Chancellor have given the campus the opportunity to hear from the Chancellor and other university officials, and also ask questions pertaining to COVID and campus plans.
"As we celebrate a successful fall semester, we are already making the necessary preparations to repeat that same success for spring semester," said Chancellor Dixon. "While we have announced our revised academic calendar and plans for move in, we will continue to update our campus community to ensure a safe and healthy return to campus in January."
---