Vikings Make Great Community Partners for the Albemarle Area United Way's Annual Day of Caring Volunteer Event
Posted On September 24, 2021
---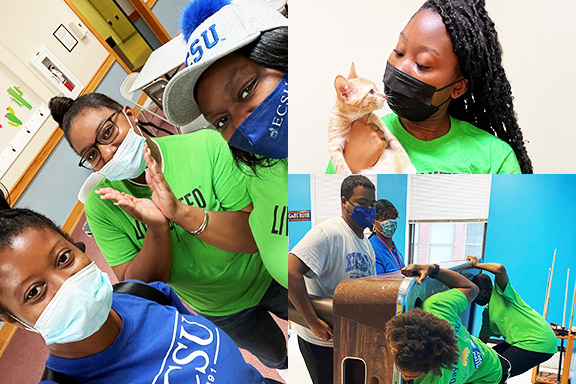 Fifty-six ECSU students volunteered their time recently for the Albemarle Area United Way's Annual Day of Caring.
When the Albemarle Area United Way (AAUW) reached out to Elizabeth City State University in search of volunteers for the Day of Caring on Sept. 17, they quickly discovered that Viking Pride extends well beyond the university campus. For the annual event that benefits AAUW area non-profit partners, 56 ECSU students pitched in to assist the local SPCA animal shelter and the Boys and Girls Club of the Albemarle. 
According to Tiffany Hinton, ECSU's assistant dean of students, the area non-profits hosting the Viking volunteers were "overwhelmed" by the positive response of the students. And AAUW's Heidi Prentiss said ECSU students really came through as community partners.
"I was so impressed by the response," said Ms. Prentiss. "When Tiffany called and said she had students, I said wonderful, thinking we will have 10 or 12 students. But, oh contraire. The response was overwhelming."
In fact, there were so many students ready to volunteer their time, Ms. Prentiss says they had to create shifts for the volunteers so there would be room for all of the students to work at the respective organizations.
"The university is a part of the community and it's great to see them out in the community," she said.
Ms. Hinton says she, too, is "super impressed" with the willingness of the students to get out and volunteer in the community. She says the university staff and faculty make it a point to stress to the students that part of the ECSU story is their role in the community as leaders and that is, in part, the legacy they leave behind when they graduate and head out in to the world.
They are, she emphasizes, very much a part of the greater Elizabeth City community and they are welcome here.
"Coming to a place of unknowns, as new students, can be intimidating, but they are getting to know that they are welcome," said Ms. Hinton. "People want you to come and engage."
Even though ECSU students are here for an average of four years, Ms. Hinton wants them to remember they are very much a part of the community. So much so, that during new student orientation, the university has had community leaders talk to the incoming classes about what is available in the community for them, and reinforcing that they are not only welcome, but wanted in Elizabeth City.
"And they (students) are buying in," says Ms. Hinton. "They are listening."
So, by listening, they are getting involved where they are needed, like AAUW's Day of Caring. And, says student Kiana Browne, volunteering in the surrounding community gives her the opportunity to get to know people and expand her world beyond the ECSU campus.
"It is important to me to volunteer in the community because I love to help others, and for different opportunities. It is good to get to know other people in your community," she said. "I actually met a fellow student's father and he was so excited that I knew his son and he was showing off his son's artwork."
Ms. Browne says other students should "give it a try."
"You may be shy at first, but everyone is going to do their very best to make you 100 percent comfortable and make sure you are enjoying what you are doing," she said.
Students who would like to participate in future volunteer opportunities should contact Ms. Hinton in the Division of Student Affairs by calling 252-335-3562 or send an email to trhinton@ecsu.edu.
---