Vikings Head Coach Anthony Jones is No Stranger to Championships
---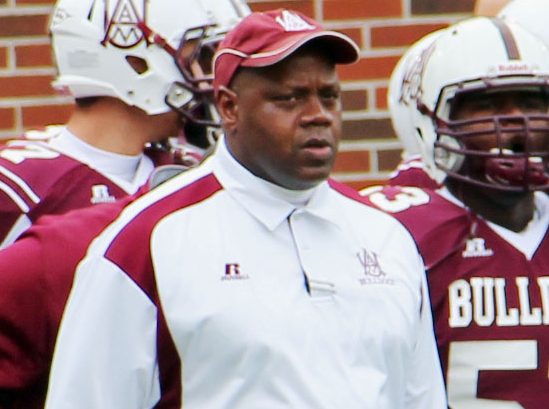 Vikings head football coach, Anthony Jones, is pictured here during his days as head coach of the Alabama A&M Bulldogs. Jones was one of the university's top winning coaches in the institution's history. Fall training for Jones's Viking players begins Aug. 6.
It's 8 a.m. on Wednesday morning and Elizabeth City State University head football coach, Anthony Jones, is sitting down for a radio interview. He's one of several ECSU guests to appear on the Raleigh-based show, Sports Shop, with host Erroll Reese.
"We're going to be a hard-working, disciplined football team," Jones tells Reese. It's the first big interview for Jones since he took over as head coach last April.
While waiting for the live telephone interview, Jones sits at a desk in the university's Thorpe Administration Building, discussing the future of the Viking football program, and most specifically the training of his players.
Jones is thoughtful, reasoned and calculated. He knows what has to be done, and he isn't shy about explaining that before he starts offering fans platitudes about winning seasons, he has to build a team.
"The number one thing this year is to teach them how to compete," said Jones of his players.
Since his arrival as the new Vikings head coach last April, Jones has been busy behind the scenes, preparing for a season that will begin in September with a non-conference game against Ohio's Central State. But that preparation has been challenged by the timing of his arrival; a period in the spring that should have been dedicated to spring training, but couldn't happen because his start date found him on campus at the end of training season.
"It's hard to say what the fall season will look like," Jones says.
And while it may be difficult to predict what the season will look like, it's certain that Jones will be working on building a team of winners and that starts with learning how, he says, to compete on the field.
Jones explains his philosophy like this: To compete, each player has to establish his role on the team.
"Everybody wants to be a star but they need to be a significant part of the whole," he says.
Knowing your role as a player means you know not only where you fit into the big picture of the team's competitive arc, but also how you flow with the overall strategy on the field. It is not about, as Jones said, being a maverick and being a star, it's about becoming a cohesive part of the whole team structure.
"If you don't understand your role, you don't know how to compete," he says.
Jones explains that in an effort to teach his players to compete, he will pit offense and defense against one another during regular practice scrimmages, anticipating that the level of competitiveness amongst his players will give them the opportunity to understand that at the end of the day, they must come together as one team.
"In practice you give the best you've got, and sometimes it gets contentious," he explains. "But I have to respect you as a team member. We're working together to get better. We can't be divided otherwise we're beating ourselves."
The lesson comes back to understanding your role as a player, but also recognizing that while competition drives the game, unity as a team points to victories on the field.
The team must possess a common bond and respect for one another.
"We have to remember that at the end of the day, we need each other and we are all Vikings," says Jones.
All of that training, however, won't begin until Aug. 6, when the members of the Viking team return for the start of fall training, little less than one month before their first game.
That means Jones has very little hands-on time with the players before the pigskin hits the gridiron. It means that Jones, his coaches – he's in the process of hiring new members of his coaching staff- and his players will have to work hard and become disciplined in a short amount of time.
But Jones is confident in his approach. And it is a winning approach. As a Super Bowl champion and one of Alabama A&M University's top winning coaches in the school's history he is, after all, no stranger to championships.
---