Vikings Conquer Eastern Europe in Study Abroad Trip
---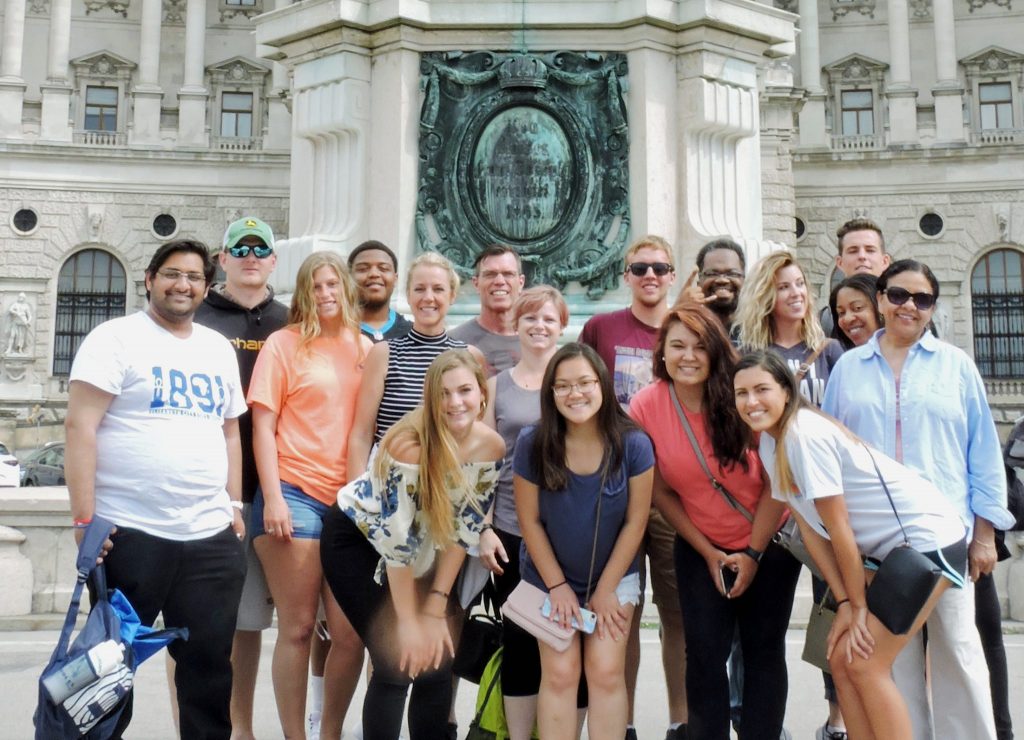 Elizabeth City State University's annual spring study-abroad tour took students and faculty to Eastern European countries. Participating in this year's tour were (back row, left to right) Mattwe Jones, D'Anthony Ravenell, Bob Chambers, Brian Jordan, Brett Holl; (middle row, left to right) Nerendra Banerjee, Lindsay Dalton, Dr. Mary-Lynn Chambers, Dr. Kacey DiGiancinto, Noah Hunter, Chanelle Chambers, Kiera Humes; (front row, left to right) Alex Gummere, Lauren Burgess, Bella Barragan, and Dr. Shirin Siddiqui.
Elizabeth City State University sophomores D'Anthony Ravenell and Noah Gunter would agree, standing on the grounds of the Nazi death camp Auschwitz in Poland gave them a deeper understanding of the history they had read about in school.
"Sitting there and being at the place is eye opening and makes you think about the world as a whole and see how people can be affected by such tragedy," said Gunter.
Ravenell said, as he reflected on his participation in the ECSU-sponsored Eastern European study-abroad tour, that being on site gave him a deeper appreciation for the history, and the people of the counties where they toured.
"I wasn't sure what to expect, going to a different country," said Ravenell.
Dr. Mary-Lynn Chambers, a professor in the Language, Literature, and Communications department, has been the faculty advisor for the annual spring study-abroad tours. Last year students toured Spain, while this year they had a look at Eastern European countries such as Poland, Czech Republic, Budapest, and Austria.
"Before this study abroad experience, the students knew about World War II, but during this trip they experienced the devastation," she said. "The war-torn buildings in Budapest, the tour of Auschwitz in Poland, and the stumbling stones in Prague all gave testimony to a past that must not be repeated."
From May 14 through May 25, students experienced the places and history such as a cruise on the Danube River in Budapest, visiting the largest European Medieval square in Poland, the sites of Prague, and food, flowers and music in Vienna.
"Where they learned that there is an amazing world waiting for them," said Chambers.
In Poland, not only did they tour the Medieval square and Auschwitz, but also the historic setting of the Jewish Ghetto where Nazis kept the country's Jewish population trapped prior to shipping them off to death camps.
In Budapest, they toured the Fisherman's Bastion and Matthias Church, and the "opulence of the Budapest Baths."
In Prague they viewed Baroque architecture, and visited the towering Gothic structure, St. Vitus Cathedral.
In Vienna, Austria they ate wiener schnitzel, toured the city's famed gardens and experienced the music of one of Europe's famed composers, Frederick Chopin.
Chambers says the May 2019 trip will feature Paris and Amsterdam, "Where history, culture, and art will help the students discover a world outside their own."
Chambers says faculty and staff are also welcome on the study abroad trips. Anyone interested in traveling next year can contact her at mchambers@ecsu.edu, or go online to enroll in the trip at www.efcst.com/2086167NF.
---