Viking Tea @ The E held on October 16
Posted On October 9, 2015
---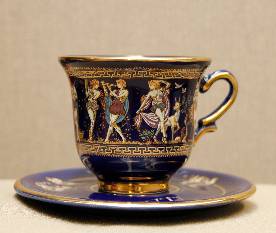 Make room on your calendar of homecoming events for a new event. On October 16, expect to see a beautiful selection of Elizabeth City's most fashionable hats at The Pines.
While golfers are enjoying a day on the greens, guests will enjoy tea at 11 a.m. in the banquet room. The event, Viking Tea @ The E," is a fundraiser designed to support the university athletic department. Organizers will conduct an auction of jewelry, vintage teacups, saucers, teapots and area retail gift certificates. There will be a table auction for a premiere set of white gloves that bears the university signature blue "E." Guests will enjoy a light lunch, fun party games, with a variety of hot and cold teas.
Tickets are $20 per person. Seating is limited. Guests are encouraged to wear afternoon tea-time attire to complement their glamourous hats.
Contact the Athletic Department to reserve seats, 335-3891. The Pines is located at 1525 North Road Street in Elizabeth City. ECSU will celebrate Homecoming 2015 October 11 – October 18.
---