Viking Student Life Getting Big Makeover with Brown at the Helm
Posted On August 10, 2018
---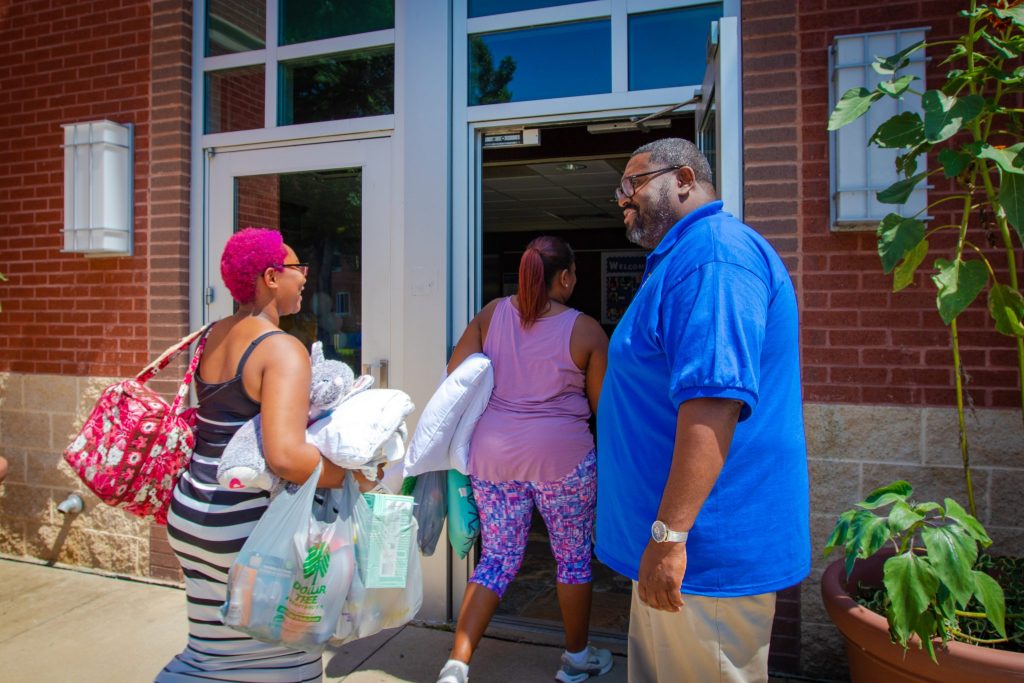 Gary Brown, Vice Chancellor of Student Affairs, right, greets students as they move into Viking Towers on freshman move-in day, Aug. 10. (Photo by Michael Harrison)

Since his arrival on campus July 9, Gary Brown has proven that he's a hands-on leader.
And while students are moving onto the Elizabeth City State University campus ahead of the 2018-2019 school year, the Vice Chancellor of Student Affairs and his staff have been working overtime to ensure that life outside the classroom is a significant part of the Viking experience.
"It's about being present and working with purpose," says Brown. "What I've said to the staff is that the expectations from folks in Student Affairs is we don't look at the work-week as a 9-to-5 opportunity. Most of the work will happen outside of that. It's about ensuring you have developed relationships with students so they can rely on you.
"We also have to be clear on the outcomes we want."
The outcomes? Brown says it's all about the return on the investment; it's about the student.
"It's the return on investment on several levels," he says. "One is pride in the institution so students feel like the experience and exposure they got here is second-to-none. Number two is their development and to see that growth year-to-year. And ultimately it's opportunity. Provide opportunity to be exposed to things they wouldn't be able to otherwise. For a lot of students this is the first time they have ever been outside their community."
The aim is to not only create events, but also an experience that shapes students' lives through programs on campus.
"For the first month we have been working with student leaders around what our programming will look like this semester," says Brown. "We have a full calendar of events that provide students opportunity to engage in intentional ways."
Social life is important for students and Brown says a number of events are planned to bring them together as one Viking family.
"We are rolling out a new activity yard festival," he said. "On Thursdays from 3 p.m. to 5 p.m. in the promenade, it will be a place where students can come and hang out. There will be music and tabling with partners from across the campus with information they want to present to students. Community groups could come, too."
But Brown is also interested in a holistic approach, cultivating the overall life of these young adults. One approach, then, are service opportunities both on and off campus. He says students are currently working on backpacks for kids in public schools, there is a partnership with the Food Bank of the Albemarle to bring volunteers to its warehouse near campus, and all of this will be built into the New Viking Days happening today, Aug. 10, through Sunday, Aug. 12.
"The goal is to get freshmen engaged," he said.
Brown said the commuter center where the bowling alley is located will open soon, after recent renovations. There is Williams Hall with offer an opportunity for pick-up games in the gymnasium and there will be game trips planned, and so much more, he said.
And, Brown said, a new addition to campus is being set up now in the Student Center, the P.A.C.E. Center. An acronym for Prevent, Awareness and Cultural Education, Brown says the center will incorporate the women's center, and add a focus on the LGBT and Latino communities in an effort to provide students with a safe place and a broader look at life.
"Hopefully creating a space, and critical conversation for a deeper level of understanding to better prepare students for when they leave the institution and get out in the world," he said.
Brown and staff will be directly engaged with students. He says students will see him at events, and they will know his face, and know that he is here, for them.
"If there is an event and I can be there, I will," he said. "I plan to be there."
---