Viking Profile: Sanda Oo is Focused on Success
---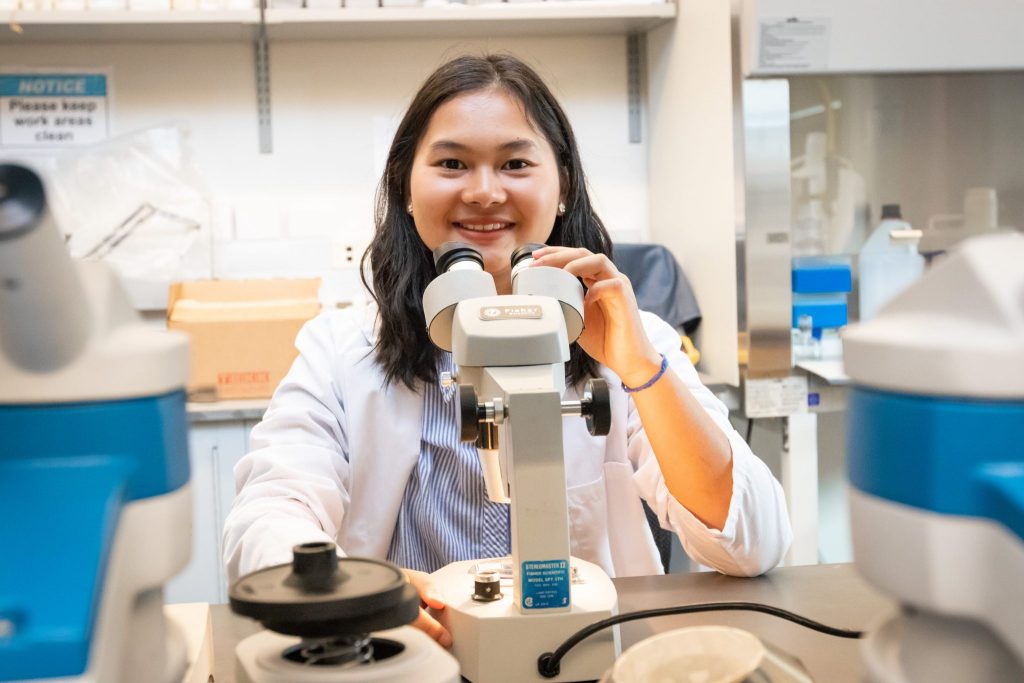 Sanda Oo has her sights set on success, and her time as a student at Elizabeth City State University is a stepping-stone toward that end.
"ECSU was a pre-meditated challenge with the goal to adapt and cultivate myself in an environment that I'm not at all familiar with," said Oo, a junior pharmaceutical science major. "And ECSU happens to be the perfect place for me and for those who dare to walk alone and outside of their comfort zone, creating our own opportunity to achieve our goals; that is the most adventurous experience!"
Oo says ECSU was the perfect choice for her because it's a small university in a small town and the distractions are few.
"ECSU provides students with endless options when it comes to choosing an academic program," said Oo. "From aviation and business, to education and social work, ECSU has something to offer for every student. For me, it was the pharmaceutical science program that eventually brought me here."
Oo says her hope is, upon graduation from ECSU, she will leave here as a "well-rounded scholar, culturally competent individual, a confident leader and always a proud Viking!" And to achieve that goal, the future pharmaceutical researcher keeps busy not only with her academic life, but also with her student life.
"Aside from studying, be more active on campus, join clubs, participate in campus activities, and volunteer at the campus and community events as this is the golden time to make mistakes and learn from them," she says.
Outside the classroom, Oo is on the Viking tennis team, is a Resident Assistant, a member of the National Society of Leadership and Success, recently attended the CIAA 2019 Career Expo, is a delegate of the Diversity & Inclusion Task Force for ECSU, and works as a soundboard operator at the campus radio station, WRVS 89.9 FM.
Although Oo is a junior, and plans change while attending university, she says her plans for the future focus on "further study in the field of pharmaceutical sciences."
"My career goal is to be able to contribute in the drug development process as a pharmaceutical scientist," said Oo.
Major/Minor:
Pharmaceutical Science
Classification:
Junior
Hometown:
New Bern, North Carolin a
Hobbies/Interests:
Growing herbs and flowers, photographing nature and landscapes, radio broadcasting, playing tennis.
Dream Job:
Pharmaceutical scientist
Campus Events You Enjoyed Participating In and The Reason(s):
Board operator for WRVS 89.9 FM Resident Assistant Member of the National Society of Leadership and Success Delegate to the Diversity & Inclusion Task Force for ECSU
Plans After Graduating From ECSU:
To further study pharmaceutical science.
Plans For the Future:
My careergoal is to be able to contribute in the drug development process as a pharmaceutical scientist.
Your words to live by:
When you take things for granted,you lose focus and determination.
Favorite Place on Campus
Third floor of the Pharmacy Complex.
Favorite Campus Events
Border Clash; Rise Against Hunger; Chancellor's Color Run. These events bring together the whole community of Elizabeth City onto the campus. ECSU becomes a different and exciting environment when you have children, parents, grandparents, and alumni interacting with one another while making a difference for our future and the world.
Advice for Younger Students
Learn something new each day, especially by reading. Build your reading comprehension while you are young, as it is the number one skill to take off half of the burden of being an undergraduate.
---