Viking Fellows prepare now for their future as teachers
---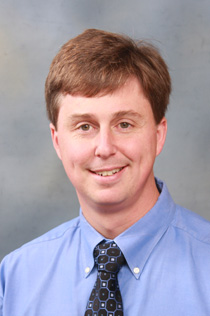 Kesha Williams
May 03, 2010
There is no time like the present to prepare for your first day as a teacher. That's the conclusion you might say 25 Viking Fellows came to when they became tutors for area middle and high school students.
Viking Fellows are current ECSU students who are majoring in education and who have committed to teaching in the state's schools. Currently, their volunteer time as tutors provides a glimpse into the challenges and rewards of teaching.
The ECSU Viking Fellows Program began in the fall of 2007. It provides outstanding high school students an opportunity to become exemplary teachers without the financial burden of paying for college. The program focuses on providing additional learning opportunities and a support system for students as they progress through their college education.
The Viking Fellows Program provides an enriching program and scholarships to cover tuition, fees, room and board for four years. Upon acceptance of the scholarship, students agree to teach for four years in one of North Carolina's public, charter, or government schools. If the recipient cannot repay the scholarship through service, the loan must be repaid with 10 percent interest.
Viking Fellows participate in monthly seminars, social activities, service projects, and tutor in the local public schools. They also have travel opportunities through the Viking Fellows program and other organizations that they are encouraged to join.
The Viking Fellows tutored at Elizabeth City Middle School, River Road Middle School, Northeastern High School, and Pasquotank County High School.&ampnbsp Participants have tutored two days a week for about an hour each day.&ampnbsp&ampnbsp They work with students in math, science, language arts, and social studies using the tutoring techniques provided by the Advancement Via Individual Determination program. AVID, as it is known, is a college-readiness system designed to increase the number of students who enroll in four-year colleges.&ampnbsp Nearly 4,500 schools in 45 states, the District of Columbia and 16 countries/territories, including local schools, participate in the program. Staff from the local school system trained the ECSU tutors in early October.
Samuel David Young is participating in the tutor sessions for a second year. Like his mother, father and an aunt, he plans to become a teacher.
&quotI've been tutoring in middle schools and its good practice. Math gets harder as students move from one grade to the next but I tell them to simply take their time and complete their work,&quot Young said.
&quotTo make math classes interesting, I plan to use the kinds of examples in class that people face each day-balancing a checking account before and after going shopping, estimating your car's gas mileage. My math classes won't be limited to word problems.&quot
George Cox is director of the Viking Fellows program. He is confident the tutoring sessions are good for the Viking Fellows and the area students.
&quotI wanted them to experience teaching as early as possible. The more experiences they have the better they are going to be in the classroom. Viking Fellows will have a competitive edge.&quot
This tutoring helps the schools by providing the teachers with some much needed assistance. It helps the students by giving them the individual attention that they need, and it gives our education majors additional, positive experiences working with students to make them better teachers when they graduate.
There are currently 33 Fellows in the ECSU Viking Fellows Program. They are majoring in Elementary Education, Middle Grades Education, Physical Education, Music Education, Special Education, Secondary Biology, Secondary English, Secondary History and Secondary Math. They come from as close as Elizabeth City and as far away as Charlotte.
Interested in becoming a teacher and applying for the Viking Fellows Program? Students must have:
A high school GPA or 3.0 or better
At least a 900 on the critical reading and math portion of the SAT (or equivalent ACT score)
Completed the FAFSA with data sent to ECSU
Been awarded either the Millennium Scholarship (www.cfnc.org/mtsl) or the NC Prospective Teachers Scholarship (www.cfnc.org/ptsl)
A commitment to teach in the state of North Carolina
For more information, contact Mr. George Cox, 252-335-3878.
---