Viking Class of 2003 Mr. ECSU, Keith Richardson, Named Wake County School District Principal of the Year
Posted On October 15, 2021
---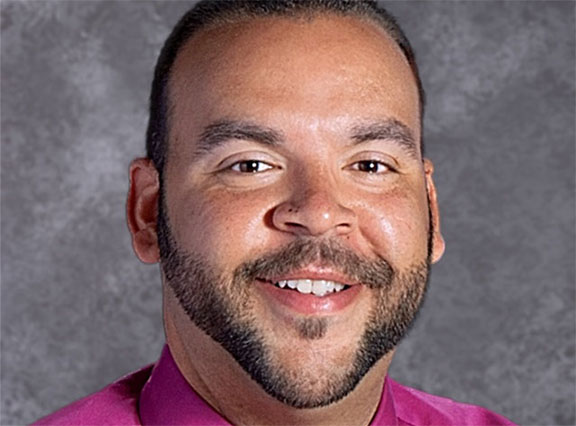 When Keith Richardson returns to the campus of Elizabeth City State University for homecoming, not only will the former Mr. ECSU be celebrating his love for his alma mater, but he will also be carrying with him the pride of being named Wake County Principal of the Year. The 40-year-old Knightdale High School principal says he's humbled by the honor. 
"Learning about it was like an out-of-body experience," said Mr. Richardson.
A native of the Rocky Mount, North Carolina area, Mr. Richardson's older brother was attending ECSU in 1991. That prompted him to tour the campus when it was time to consider a university. ECSU, he said, was not his first choice, but he knows now, it was his best choice.
"I love the fact that I went to ECSU and I wouldn't change it for the world," he said.
On campus, Mr. Richardson majored in English with a minor in secondary education. Because of the university's accessibility due to size, he says he was able to focus on his studies, receive one-on-one guidance from the faculty, receive everything he needed to be successful, and develop lasting, lifelong relationships.
Staying busy outside of his studies, he says, was an important part of his life as a Viking. He was active in Greek life, the freshman class vice president, the Student Government Association president, a member of the campus NAACP, and during his senior year, Mr. ECSU.
Participating in campus life was key to his success, he says.
"It's the same thing I tell my students. This is their school and they should take ownership of it and be involved in what takes place," said Mr. Richardson.
During the spring semester of his senior year, Mr. Richardson was a student teacher at Pasquotank County High School in Elizabeth City. The day before his May 2003 graduation, he was hired as a full time high school English teacher and would teach there for four years.
He would go on to earn his Masters in School Administration from East Carolina University and, like his previous experience at ECSU, would be hired by a school district prior to graduation. His former principal at Pasquotank County High School would bring him to the Raleigh area to work for the Wake County School District as an assistant principal.
Mr. Richardson would go on to become a principal of an elementary school before moving on to Knightdale High School in 2019.
Last year, he was named one of Wake County's top five Principal of the Year finalists. But it was this year that he received the top honor out of 200 principals, and now the Viking alumnus is contending for Regional Principal of the Year. If he receives that honor, he will go on to contend for North Carolina Principal of the Year. 
Mr. Richardson says his priority as a principal is about serving as a leader, building relationships, "stating your why" when you make decisions, and to be approachable and visible to his campus community.
"And do what's in the best interest of your students and take care of your staff," he said.
As a Viking alumnus, Mr. Richardson also keeps the best interest of his alma mater at heart. He is a lifetime member of the National Alumni Association, will begin serving on its board of directors in 2022, and says that while he is a financial supporter, he is always available to give his time to ECSU.
"I love my alma mater and would do anything for it," he said.
---