Viking Chemistry Major Studies Abroad in Mexico
---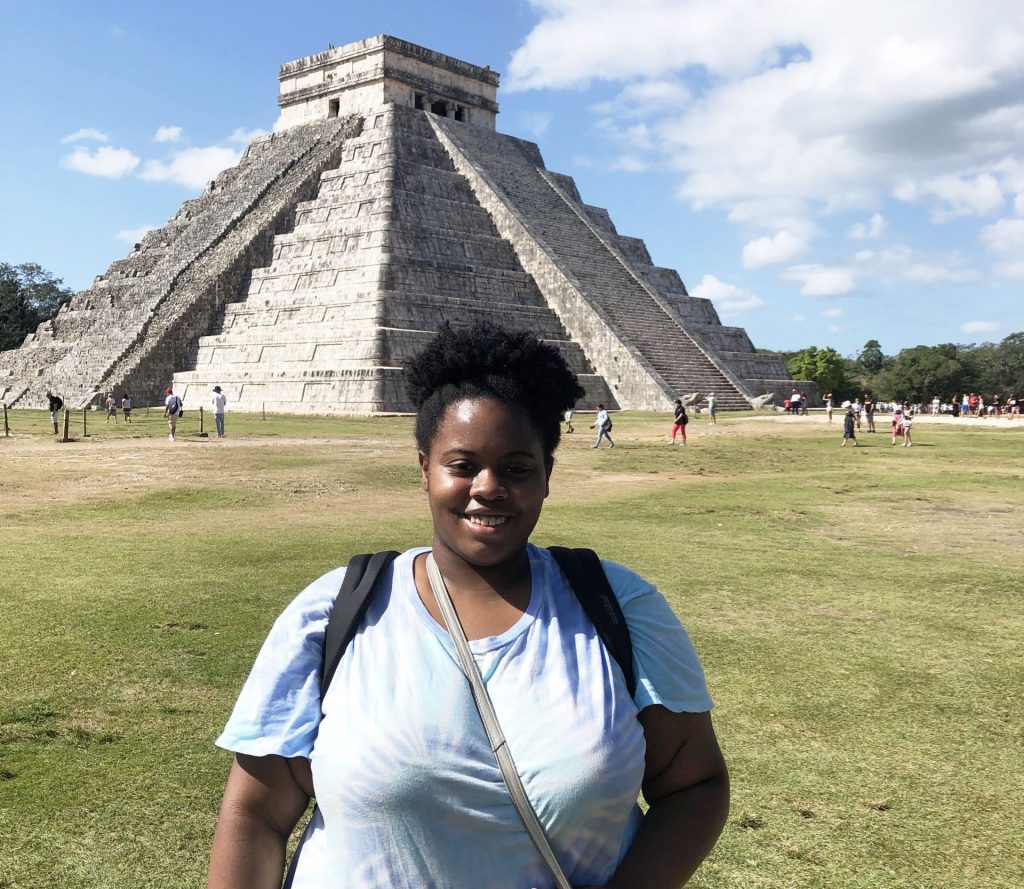 ECSU junior Arrhia Palmer spent part of her semester studying chemistry and physics in southern Mexico. When she wasn't focusing on science, she was learning about Mayan history and culture.
While Elizabeth City State University Vikings are safely working from home now, at least one student began her semester in Mexico. Arrhia Palmer, a junior chemistry major and Honors Program student, was awarded a full scholarship to study south of the border and spent 11 memorable weeks before returning home due to the COVID-19 outbreak. 
According to ECSU's Honors Program director, Dr. Andre Stevenson, Ms. Palmer was enrolled for 12 weeks to study chemistry and Spanish in Merida, Mexico through a program sponsored and funded by the Council on International Education Exchange, or CIEE. She completed her final week of coursework online, from home.
"Her program was titled 'Merida – STEM and Society,'" said Dr. Stevenson. "It is designed for STEM majors to enroll in Spanish and STEM courses for 12 weeks, among other things. Arrhia was enrolled in chemistry and physics courses, in addition to her Spanish courses."
Merida is located in Mexico's Yucatan peninsula, miles from the Gulf of Mexico. Ms. Palmer was placed with a local family during her stay there.
"I lived with a family consisting of a father and mother, two daughters and another student in the same program," said Ms. Palmer.
The first week, she said, consisted of adjusting to her new home, the city, and the classes.
"The school is uniquely built compared to American campuses but fits right in with Merida's architecture and is a brand-new facility," said Ms. Palmer.
Ms. Palmer began her 12 weeks with courses on Mayan history, a course titled Culture and the Environment, and beginning Spanish I.
"The Spanish I is more like a beginning Spanish II class due to its rigor," she said. "The entire class is taught in Spanish with no English spoken or read."
Ms. Palmer says that aside from projects and papers, she also attended study tours of Mayan ruins, attended dance classes and spent time with her host family.
"During the week I usually do projects and homework," she said, adding that eating meals with her host family is "a big thing."
The CIEE programs are designed to engage students not only in their area of study, but also culturally. The programs, according to the website www.ciee.org, offer students a broad range of cultural experiences designed to expand their view of the world.
This is not the first time an ECSU student has benefited from the CIEE program. Last year students studied in Spain, China, Argentina, and South Africa.
---