Viking Angelo Sharpless is a World Famous Harlem Globetrotter
Posted On November 28, 2016
---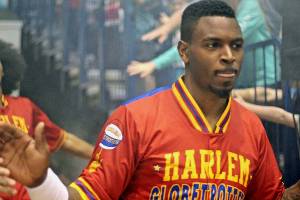 When a video of Angelo Sharpless dunking a basketball went viral on the Internet, the World Famous Harlem Globetrotters came calling. They liked what they saw and invited the Elizabeth City State University two-time CIAA honoree to training camp.
"This experience I'm exploring with the Harlem Globetrotters is the best team I have ever been on," said Sharpless, a former Viking basketball star.
The Plymouth, North Carolina native says he is seeing the world and he recognizes how extraordinary that it is for person from rural Northeast North Carolina.
"I've been to all 50 states and 10 different countries," he said. "And to be traveling the world with great teammates like Nate "Big Easy" Lofton, Flight Time, Highlight Bruton and Ant Atkinson, who is also from Northeast North Carolina, (is incredible)."
Growing up playing basketball in Plymouth, Sharpless says ECSU wasn't his first choice for college. But it was, thanks to the recruiting efforts of ECSU's head basketball coach, Shawn Walker, that Sharpless became a Viking.
"It was one of my best choices," Sharpless said of choosing to sign on as a student at ECSU.
Life as a Viking was good for Sharpless. He recalls with great fondness all of the basketball games, the football and even volleyball games. There were great student parties, student government meetings and, "The Greek life with the best fraternity in the world, Kappa Alpha Psi Fraternity, Inc."
But for a star on the court, many of Sharpless's memories revolve around the game.
"My experiences as a member of the ECSU basketball organization has been an up and down ride for myself," said Sharpless. "I earned Rookie of the Year my first year playing, then I broke my leg that following summer, which stopped me from playing the following year. After that, we have been to all the championships up until my senior year. Then I won (Division II) Player of the Year."
Sharpless says student life is important and he has taken many great lessons with him. He says if there is one thing he would tell future Vikings, it's to stay on task.
"It's easy to get off track, but if you put in the same amount of time and energy into your studies as you do your (outside) life, you will be fine," he said.
Although Sharpless is currently basking in the glow of the World Famous Harlem Globetrotters, he says he still has a career in the NBA in his sights. He also hopes to do work in his home community, specifically building a chain of family recreation centers. Beyond that, Sharpless hopes to one day be remembered for his time as a Globetrotter while coaching basketball at the college level.
---