Vice Chancellor of Student Affairs, New Positions Named
---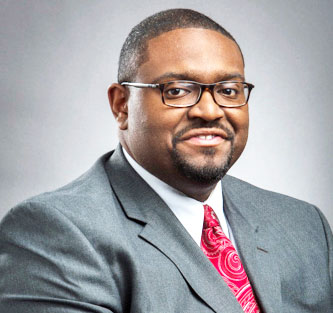 Gary Brown has been named ECSU's new Vice Chancellor of Student Affairs.
Elizabeth City State University has announced new promotions and is welcoming new staff members, including the new Vice Chancellor of Student Affairs, Gary Brown.
Brown is leaving his position as North Carolina Central University's Interim Vice Chancellor, Division of Student Affairs, to take over the helm of ECSU's division of student affairs as of July 9. Dr. Art Jackson previously served as ECSU's Interim Vice Chancellor of Student Affairs.
Brown began working with NCCU's Division of Student Affairs in 2007 as assistant dean of students and coordinator of Greek Affairs. Over the years, he served in a number of Student Affairs positions, including dean of students, director of Student Rights and Responsibilities, and assistant director of Student Support Services.
A graduate of NCCU, Brown earned his Bachelor of Arts degree in history. He also earned a master's in education with a concentration in higher education administration from North Carolina State University. In addition, Brown earned a Master of Divinity degree from Shaw University, and is currently working on his doctorate in leadership studies at North Carolina A&T University.
He is a member of the Association for Student Conduct Administration and the NASPA/Student Affairs Administration in Higher Education, where he chairs the NASPA Region III HBCU Task Force. He also is a member of Alpha Phi Alpha Fraternity, Inc. and several other organizations.
Working with Brown as ECSU's new Interim Associate Dean of Students and Director of Leadership Development and Community Engagement will be Erin Davis. She begins her position on July 9. Davis is currently the Assistant Director for Student Activities at Saint Augustine's University.
Also, Dr. Coray Davis has been named Associate Vice Chancellor for Academic Affairs. His start date is July 9. Davis is currently an associate professor of engineering at Virginia State University. He holds a doctorate in civil engineering from Morgan State University, a Master's of Science degree from Morgan State, and a Bachelor's of Science in mechanical engineering from South Carolina State University.
Another new hire is Carson Rich, Special Assistant to the Chancellor. No stranger to the ECSU campus, Rich has worked with Interim Chancellor Karrie Dixon while serving as the University of North Carolina System's Presidential Scholar, where he was assigned to the ECSU New Directions Phase II Operational Team. As a member of the team, he worked on special assignments and was instrumental in moving the agenda forward. Rich, who officially began his role as special assistant June 1, will provide administrative support to the Chancellor, assisting in project management and coordination of university projects, and cabinet-level projects and initiatives. He is a graduate of Appalachian State University, with a Bachelor of Science degree in political science.
Two internal promotions include the appointments of Dr. Derrick Wilkins as ECSU's Chief of Staff, and an expansion of duties for the General Counsel, Alyn Goodson.
Wilkins is an ECSU alumnus and joined the staff in 1993. He has been in several administrative positions at the University, and most recently served as associate vice chancellor for academic affairs. As Chief of Staff, Wilkins will be responsible for the management and coordination of all activities of the Chancellor's office, including employment-related matters, office budget, oversight of projects, and strategies for the Chancellor. He will also oversee the ECSU Office of Communications and Marketing, and the Information Technology department.
Goodson joined ECSU in 2012 as the Assistant General Counsel and became General Counsel in 2014. In his expanded role, Goodson will continue to manage the university's Legal Affairs division, and have the added responsibility of Chief Operating Officer. With this expansion of duties, Goodson will provide leadership over the strategic planning process, campus master planning, space management, emergency management planning, enterprise risk management and management productivity initiatives. He will also oversee the Department of Human Resources, the University Police Department and Government Relations. Before coming to ECSU, Goodson was assistant general counsel at RAM LLC in Raleigh, and a lecturer and teacher's assistant at North Carolina Central University's School of Law.
"I am excited to welcome our new staff members on board and to give other ECSU administrators an opportunity to showcase their expertise in a broader capacity," said Interim Chancellor Dixon. "I am confident that our team of dedicated staff and faculty members is committed to the stability, success, and future of ECSU. We will be working together to enhance the student experience and move the business of the organization forward. This is a time for sustained change and strategic growth."
---