Veterans recognized at ECSU
Posted On November 19, 2013
---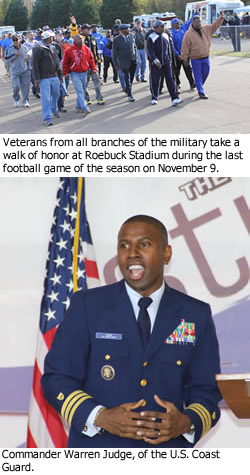 By Kesha Williams
November 19, 2013
ECSU welcomed alumni and guests to campus for two Veteran's Day recognitions. First, the Athletics Department welcomed veterans for a Walk of Honor at the halftime segment of the football game on November 9. The Marching Sound of Class Band performed &quotRolling Thunder&quot as veterans strolled from the scoreboard of Roebuck Stadium toward the home fans' seating area.
On Monday, November 11, the staff in the Department of Human Resources recognized 30 employees who served in the nation's military at a Veteran's Day program in the Walter and Henrietta Ridley Student Center. Cmdr. Warren D. Judge, a 1997 graduate who has served the last 27 years with the U.S. Coast Guard, was the guest speaker.
During those years, his occupational specialty centered around command, control, computers and communications. Judge is currently stationed at the Coast Guard Headquarters in Washington, D.C., where he manages a budget of $30 million and leads a matrix team of over 80 personnel.
His previous unit was the White House Communications Agency (WHCA). There, he served as a Presidential Communications and Response Officer for the president of the United States and the executive senior staff.
His WHCA assignments led him to several countries such as Russia, China, South Korea, and Ireland as well as numerous domestic and international locations. Judge told the audience he was honored to speak for the Veteran's Day program at ECSU.
&quotIt takes a special person to volunteer, special people to put themselves in harm's way – not just for their family but their country,&quot Judge said.
&quotMy definition of a veteran is a military person who places others before self, a person you can count on to have your back when you are in a fox hole.&quot
&quotA veteran is also friend you can talk to who will understand the issues you are going through, both in the military and in your personal life.&quot
&quotA veteran is a person who raises his/her right hand, takes the oath of office, promises to support and defend the Constitution of the United States against all enemies, foreign and domestic.. . . this person promises to obey the orders of the president of the United states and the officers appointed over him/her.&quot
Judge congratulated the veterans in the audience of approximately 150 people. He encouraged the audience to thank veterans from each branch of the military for their service no matter their assigned duties.
Judge acknowledged ECSU professors who were supportive of him when he attended the university. He is a native of Tampa, Fla., who arrived in this area on assignment with the local Coast Guard Air Station. Although he earned some college credits earlier, he completed much of his bachelor's degree program at ECSU.
He recalled professors who were understanding when his work related commitments interrupted or changed his schedule of classes. He also recalled occasions when his work, class and parenting schedules were so closely slated that he was forced to take his young daughter or son to a class while he jotted down notes. He applauded ECSU for being a military friendly university and encouraged prospective and current students to make the most of educational opportunities here.
&quotWhen I was a student walking this campus and working with the Coast Guard, I never thought my career would lead me to serve in so many different places, lead me to actually serve with .5 percent of military who serve the Commander- in-Chief, President Obama.&quot Judge said.
&quotThose assignments kept me traveling, away from home and away from my family up to 220 days a year.&quot
Judge said those are the kinds of sacrifices veterans have made while being expected to work to the best of their ability each day.
The commander said he is simply thankful for the opportunities a good education and the Coast Guard afforded him.
---