V.A.N.S. induct 21 new students
Posted On January 23, 2012
---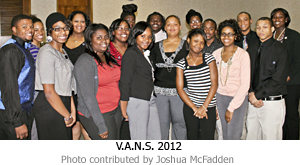 Kesha Williams
January 23, 2012
The Vikings Assisting New Students (V.A.N.S.) recently added 21 new students to their roster. On January 17, the students were inducted at a ceremony at the K.E. White Graduate and Continuing Education Center.
Our new V.A.N.S. for the 2012 summer NSO sessions are:Â Derain Armstead, Priscilla Azaglo, Denzel Biggs, Jessica Brooks, DeJhon Collins, Tashay Daise, Jhoi Ebron, Jeremy Fate, George Felton, Taierius Fields, Quarda Fobbs, Jasmine Harvey, Lyteshia High, Kamri Hurdle, Tenise Jenkins, Shaunetta Leggette, Brooke Marrow, Donyai Moffatt, Leslie Norman, Kenya Robinson, C'Monee', Wilkins.
They join a group of experienced V.A.N.S. Â who've led prospective freshmen across the campus on previous tours. This innovative support group consists of a total of 42 students who serve as orientation leaders and peer mentors to incoming freshmen and transfer students during the summer and spring New Student Orientation (NSO) programs.
Each year, the VANS provide much needed services to assist with incoming freshmen. Those services include the selection the New Student Orientation theme, facilitating small group discussions, leading campus tours. They also lead icebreakers and evening activities during the summer and spring orientation sessions for new and transfer students.
Beginning this month, The V.A.N.S.  will participate in a six-week training session led by Danielle Fox, V.A.N.S.  advisor, Felecia Brown, university counselor, Mr. Syeed Bokhari, university counselor and Dr. Jackie Huff, director of the Counseling and Testing Center. In addition, 16 V.A.N.S.  will receive additional orientation training at the Southern Regional Orientation workshop (SROW) which is being held at the University of North Carolina at Charlotte, March 9-11. Fox said the V.A.N.S.   play an important role in reassuring prospective freshmen and their parents during orientation sessions.
&quotV.A.N.S. help to make the first impression of the campus by making families feel welcome and sharing their personal experiences on why ECSU is a great university,&quot Fox said. &quotV.A.N.S. also assist other departments upon request on campus such as the Office of Alumni Relations (Program Support), Admissions and Recruitment (Open House), Student Affairs (Mocktails) to name a few. Most importantly, V.A.N.S. promote growth and leadership.&quot
---