USAID awards ECSU with $13 million for Textbook and Learning Materials Program
Posted On September 22, 2009
---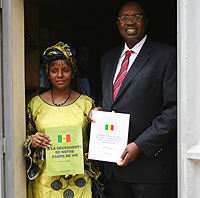 Kesha Williams
September 22, 2009
Elizabeth City State University is the recipient of a $13,000,000 award from the U. D. Agency for International Development (USAID) for support of the Textbook and Learning Materials Program. The award will used over several years: $3 million in 2009, $5 million in 2010, $5 million in 2011.
Officials in Senegal are trying to increase enrollment and improve the quality of education at all levels— primary schools, middle schools, high schools, and in higher education.&ampnbsp Expanding access to middle schools, stimulating the demand for girls' education, and creating a school environment favorable for the retention of girls, are still great challenges in Senegal. Currently, Senegal is in the midst of reforming its education curriculum. By the year 2015, officials anticipate 95% of all elementary school aged students will be enrolled in school. Additional challenges for administrators include increasing the number of qualified teachers, improving facilities, textbooks and other learning resources.
ECSU will continue to assist educators in Senegal by developing 3,000,000 textbooks and learning materials for students in grades 1 – 13. These textbooks and learning materials will be developed in a collaborative partnership with Senegal's Ministry of Education (MOE) and other educational specialists in Senegal and under the guidance of a Program Advisory Committee (PAC) in Senegal and a Program Advisory Committee (PAC) at ECSU.
---