US News & World Report ranks ECSU #2
Posted On August 23, 2010
---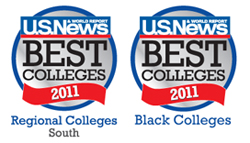 Kesha Williams
August 23, 2010
Elizabeth City State University celebrates another year in a top category– Best Colleges: Top Public Schools: Regional Colleges (South). ECSU ranked #2 in the category that the magazine defines as: &quotinstitutions (defined by the Carnegie Foundation as baccalaureate colleges) focus primarily on undergraduate education, just as the liberal arts colleges do, but grant fewer than 50 percent of their degrees in liberal arts disciplines. At these schools, at least 10 percent of undergraduate degrees awarded are bachelor's degrees. There are 319 regional colleges, ranked within four regions: North, South, Midwest, and West.
Chancellor Willie J. Gilchrist said he remains proud of the strides Elizabeth City State University makes in higher education despite the nation's tough economy and the wide selection of choices prospective students have today.
&quotAt Elizabeth City State University we continue to offer those academic majors that reflect the state and the nation's need for more professionals in those areas. We offer an education that is not only affordable but a rewarding experience for students who truly value a student-centered college environment,&quot Gilchrist said. &quotWe hope more parents and students will select this university and find what our alumni have valued for years – outstanding faculty and staff who've created a place to excel, prepare well for your career without ruining the family budget.&quot
Other achievements for ECSU include the magazine's notation of its Average Freshman Retention Rate. Among universities in the same category – Regional Colleges (South) ECSU has an average freshman retention rate of 76 percent. Only four institutions performed better in that category and the highest freshman retention rate was 79.8 percent. Among the nation's Historically Black Colleges, ECSU ranks 17 out of the top 35, a position that still speaks well of the university since most above that spot were private institutions with much larger endowments, student populations and alumni bases. All three are significant factors in an institution's ability to obtain physical and material resources that can be purchased with funds other than those provided by state allotted funds.
The indicators U.S. News and World Report used to capture academic quality fall into these categories: assessment by administrators at peer institutions, retention of students, faculty resources, student selectivity, financial resources, and alumni giving.
Please visit www.usnews.com/colleges to view the U.S. News &ampamp World Report complete listing of college and university rankings.
---