Uphill a local blues band performs at ECSU on April 15
---
Kesha Williams
March 23 2010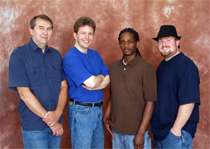 The Lyceum Series Committee at Elizabeth City State University presents Uphill a local blues band at 6 p.m. on April 15 in the promenade of the Ridley Student Complex.
Uphill plays blues straight out of the swampland. With a mix of original blues from Texas and Chicago and revitalized versions of lost classics Uphill has brought their own Carolina tang to the table since 2005.
Deacon Blues captures the soul of guitar legends from Muddy Waters to Stevie Ray Vaughan but the Uphill sound is also driven by Chris &quotCatdaddy&quot Palestrant on keys and the Deacon's down-home blues harp. British bassist Tim Orton and Richmond native drummer Isaiah Hunter provide a powerful heartbeat.
Injected with humor passion and mojo Uphill has a unique sound: steeped in tradition yet utterly ferociously alive. There is no admission fee. For more information contact Ms. Barbaina Houston Black 252-335-3279 bmhouston-black@mail.ecsu.edu.
---