University Police and Kappa Alpha Psi hold toy drive
Posted On December 14, 2009
---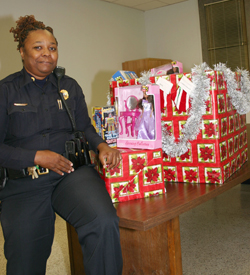 Sherri Belfield
December 14, 2009
The dedicated men and women of University Police do things great and small to protect the campus and to serve whenever and wherever they are needed. For the second consecutive year, University Police officers and staff will use their personal time and treasure to provide a merrier Christmas for children and families who receive assistance from the Pasquotank County Department of Social Services.&ampnbsp The undergraduate chapter of Kappa Alpha Psi Fraternity, Inc., has partnered with University Police to make the second time around even more successful than last year.
The goal of Toy Drive 2009 is to provide 500 gifts to children ages 6 months to 17 years old by filling a trailer (truck) with gifts and presenting them to DSS.&ampnbsp But, they need your help.&ampnbsp If you are interested in donating a gift, you may take it to the collection area in University Police headquarters at the Thomas-Jenkins Building.
&quotLast year we nearly filled the conference room with gifts. ECSU faculty and staff graciously contributed to that toy drive. We're looking forward to delivering more toys to DSS this year,&quot Chief Sam Beamon said.
The officers and staff of University Police serve the ECSU campus 365 days a year around the clock. Please consider helping them and the members of Kappa Alpha Psi Fraternity with this worthwhile endeavor to bring Holiday cheer to some of our community's most disadvantaged children.&ampnbsp These are financially challenging times, and DSS has experienced an increase in need. Every donation matters, and collectively, donations will have a major impact in our community by helping DSS to ensure that each child receives a gift this year. Christian Lewis, president of the Epsilon Alpha Chapter of Kappa Alpha Psi said the members will gladly participate in the toy drive.
&quotWe're fortunate to be here, students at ECSU and we think it is important to give to the community. This is one of several projects we are working on locally. We're involved in literacy programs with elementary school students, scholarship fundraisers and national fundraisers. We plan to complete some of those projects next semester but we are happy to help the police with this one,&quot Lewis said.
Your thoughtfulness and your generosity are greatly appreciated. The deadline for donations is December 18th.&ampnbsp For more information, contact University Police, (252) 335-3555.
---