University Honors Students Attend National Collegiate Honors Council 56th Annual Conference
Posted On December 3, 2021
---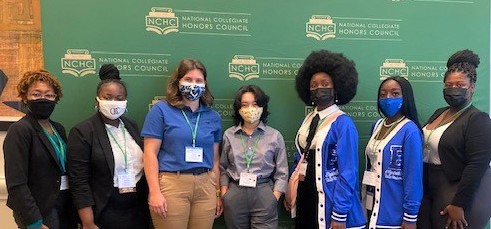 (L to R) Ms. Yolanda Carcana, Jordan Thornton, Kali Flanagan, Krystal Lopez, Caya Carter, Tiyana Boyce, and Tracy Dotse
ECSU's Honors Program provides students with a wide variety of in-depth academic, social, cultural, and international experiences. Six scholars recently attended the National Collegiate Honors Council (NCHC) 56th annual conference in Orlando, Florida.
Ms. Yolanda Carcana, Assistant Director of Employer Relations and Special Projects in the Division of Student Affairs, accompanied the group. Students had the opportunity to network, engage, and learn from their counterparts, staff, faculty, and administrators from Honors Programs across the country.
"We want our students to be able to engage in scholarly research, strengthen their networking and presentation skills, and learn about opportunities to become involved in student elected positions within the national organization," said Dr. Andre P. Stevenson, Honors Program Director.
ECSU students Jordan Thornton, Kali Flanagan, Krystal Lopez, Caya Carter, Tiyana Boyce, and Tracy Dotse attended the NCHC conference. It is one of the many opportunities provided by the Honors Program, which helps prepare students for their future.
Tiyana Boyce, a junior Business Administration major, stated, "The conference was an amazing opportunity to gain research and interactive skills and knowledge, and to network with likeminded, yet diverse people. I am thankful I was bold enough to get out of my comfort zone to make it an experience I'll never forget."
"I appreciate the opportunity to listen to presentations about study abroad, engage in mock interviews, gain insight into diversity, equity, and inclusion, and network with so many attendees," said Jordan Thornton, a sophomore Pharmaceutical Science major.
Kali Flanagan, a junior Kinesiology major, echoed that sentiment. "My main takeaway was the importance of the connections I established based on diverse backgrounds. I would stress to all students the importance of attending conferences to begin creating their networks for future endeavors," she said.
There are currently 33 students participating in ECSU's Honors Program, representing all classifications and most majors. The Honors Program has helped students study abroad, connect with internships, publish manuscripts in edited books and peer reviewed journals, and much more.
---