University Choir Brings Joyful Noise to Food Bank Fundraiser
---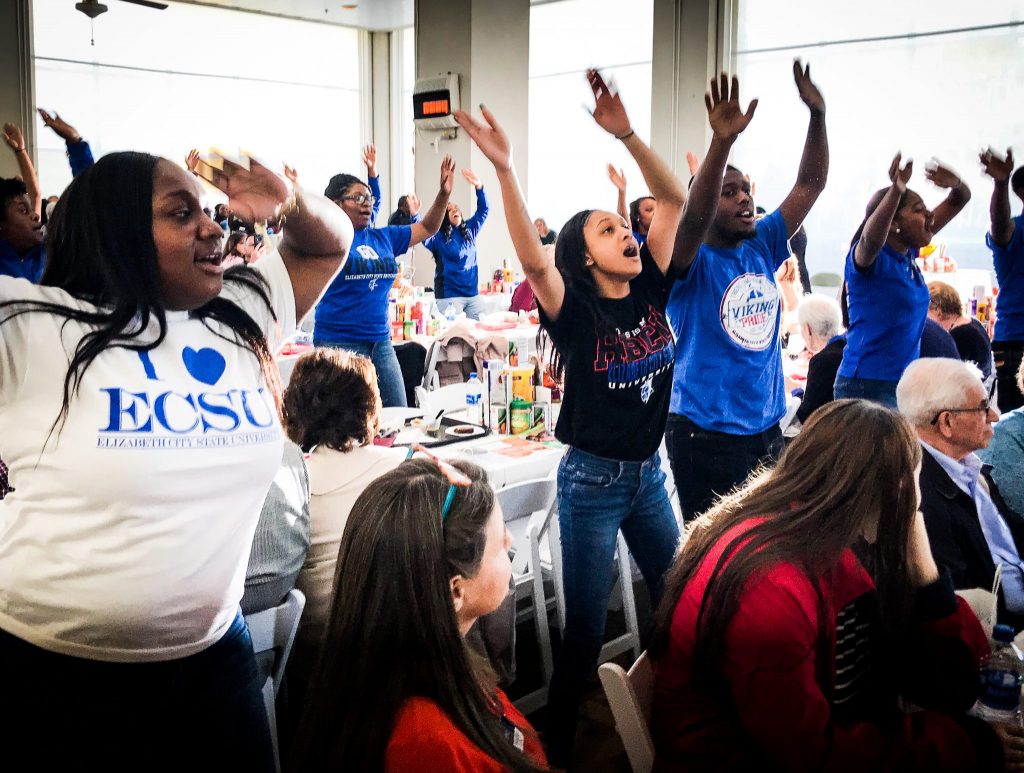 The sounds of Viking Pride were loud and clear Wednesday, April 3, as the University Concert Choir surprised participants at Food Bank of the Albemarle's annual Empty Bowls fundraiser.
Inside the portico of Museum of the Albemarle, people seated at rows of tables, eating fresh, locally made soups, found themselves surrounded by the lively faces of young men and women dressed in Viking blue. As the students positioned themselves, professor of music and choir director Dr. Walter Swan gestured, launching them into a medley of Motown greats such as "My Girl," and "Stand By Me."
The music was interspersed with improvised lyrics celebrating ECSU. And ECSU has a lot to celebrate when it comes to its participation with the Food Bank of the Albemarle.
Empty Bowls is an annual fundraiser, inviting community members to purchase tickets for a soup lunch and pick out a ceramic bowl made by local artists and art students. Community members such as ECSU Chancellor Karrie Dixon volunteer to serve the soup. ECSU's director of student accessibility, Felicia Brown, serves on the Food Bank Board of Directors, and invited Chancellor Dixon to be a celebrity server, as well as invited the university's campus catering service, Thompson Hospitality, to serve butternut squash soup.
ECSU and the Food Bank have been partnering to help relieve hunger in the region. On campus, the Vikings Care Food Pantry has worked with the Food Bank on food drives that not only assist students in need, but also members of the surrounding community.
On April 14, ECSU and the Food Bank will partner for the first-ever Sort-A-Rama. Taking place inside the Vaughan Center, Sort-A-Rama will engage area churches, businesses, civic organizations, clubs, and schools to bag bulk food products. The bagged food will go directly to families throughout the region.
To register a team for Sort-A-Rama, contact the Food Bank's communications and volunteer manager, Brian Gray, at 252-335-4035, ext. 113, or email him at brgray@foodbank.org. Individual volunteers are welcome to attend, just show up at the Vaughan Center at 2 p.m. and you'll be put to work.
---