University Advancement's Broussard Named to United Way Board
---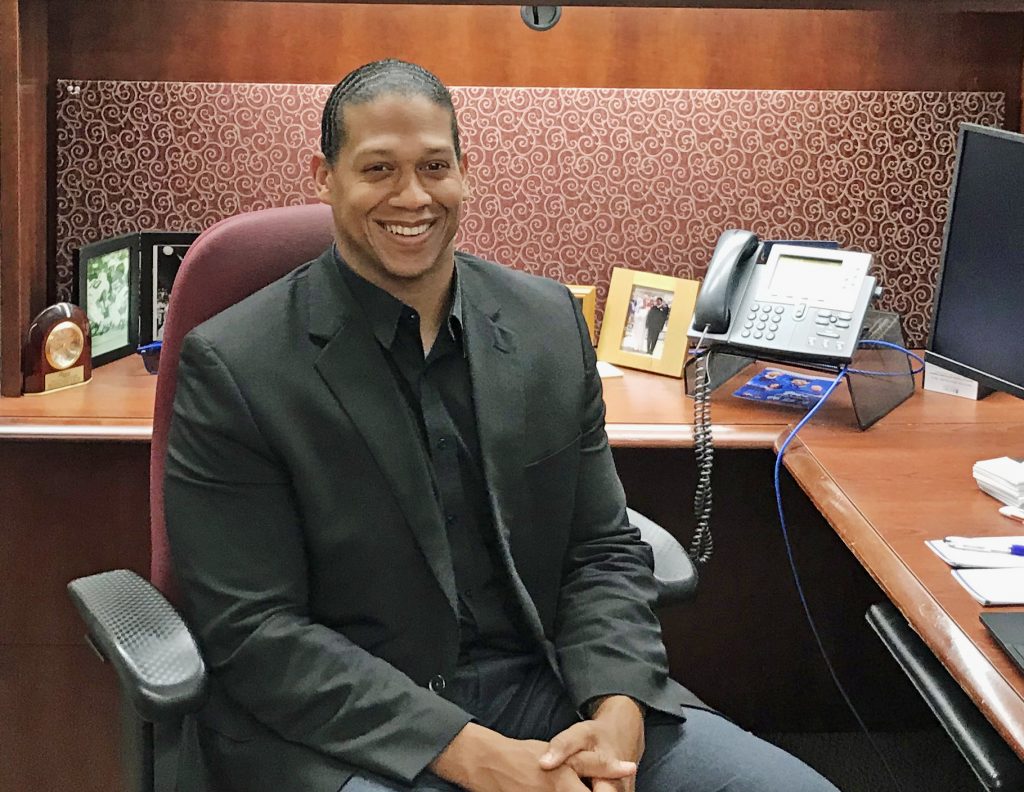 Elizabeth City State University's Director of Corporate and Foundation Relations, Dr. William Broussard, has been named to the Albemarle Area United Way's Board of Directors.
Albemarle Area United Way Executive Director Bill Blake made the announcement on June 5.
"We are thrilled to have your skills and talent leveraged for the greater good of our community," Blake said.
Broussard came to ECSU in October 2017. Since that time he has become an active member of the greater Elizabeth City community, working with organizations and volunteering at a variety of events.
"I'm looking forward, most enthusiastically, to boosting the signal of the United Way mission to ECSU's students, faculty, staff, and alumni, so that I can help align support for its worthwhile and critical mission of addressing and providing solutions for communities," said Broussard.
Broussard says he is also excited about establishing relationships between ECSU and area organizations represented by fellow board members, "who themselves engage many important sectors of local and regional political, economic, and cultural leadership."
Besides his role with the United Way, Broussard also volunteers at Food Bank of the Albemarle, the Viking Volunteer Corps, Elizabeth City Downtown, Inc., and is a member of the Elizabeth City Morning Rotary Club.
Before coming to ECSU, Broussard served as an athletic administrator for 12 years, including stints in academic support at Arizona, as associate director of athletics at Northwestern State, as director of athletics at Centenary College, and as athletic director at Southern University. He broke three annual fund and total attainment records as the executive director of the Northwestern State University Athletic Association, attained the first million-dollar gift in the school's 134-year history, and founded the Jaguar Jamboree Athletic Association at Southern.
At Southern, the athletic department set total revenue and private fundraising records, set consecutive graduation success rate records, and won 16 SWAC divisional, tournament, and regular season championships from 2012-2015. He has a career fundraising attainment of nearly $20 million.
He also served as assistant to the president for institutional advancement for the Southern University System and for 16 years as an award-winning professor and instructor of English and journalism/public relations at Arizona, Pima Community College, Northwestern State, Centenary College, and Southern. He will begin teaching in the department of Language, Literature, and Communication at ECSU in fall 2018.
After earning All-Southland Conference, All-Louisiana, FCS All-American and Academic All-District VI in 1998 and 1999 at Northwestern State University, he went on to be inducted into the National Football Foundation/College Football Hall of Fame as a scholar-athlete, earn Burger King National Scholar Athlete, Arthur Ashe Scholar Athlete, and an NCAA post-graduate scholarship before graduating from the Louisiana Scholars College, with distinction, in 2000. He went on to earn the Arizona College of Humanities Fellowship, Patrick Dissertation Award, the 2003 Centennial Graduate Student of the Year award, and his master's degree and doctorate in rhetoric, composition, and the teaching of the English language in 2007.
A published scholar on institutional advancement, American-organized sport culture, composition theory, and HBCU executive leadership, he has published over six dozen articles, essays, and chapters and made nearly four dozen regional and national conference and keynote presentations, including chairing the athletic fundraising conference for Council for the Advancement and Support of Education in 2017.
---