United Airlines Accepts its First ECSU Aviation Science Student to AVIATE Pilot Career Training Program
Posted On October 12, 2021
---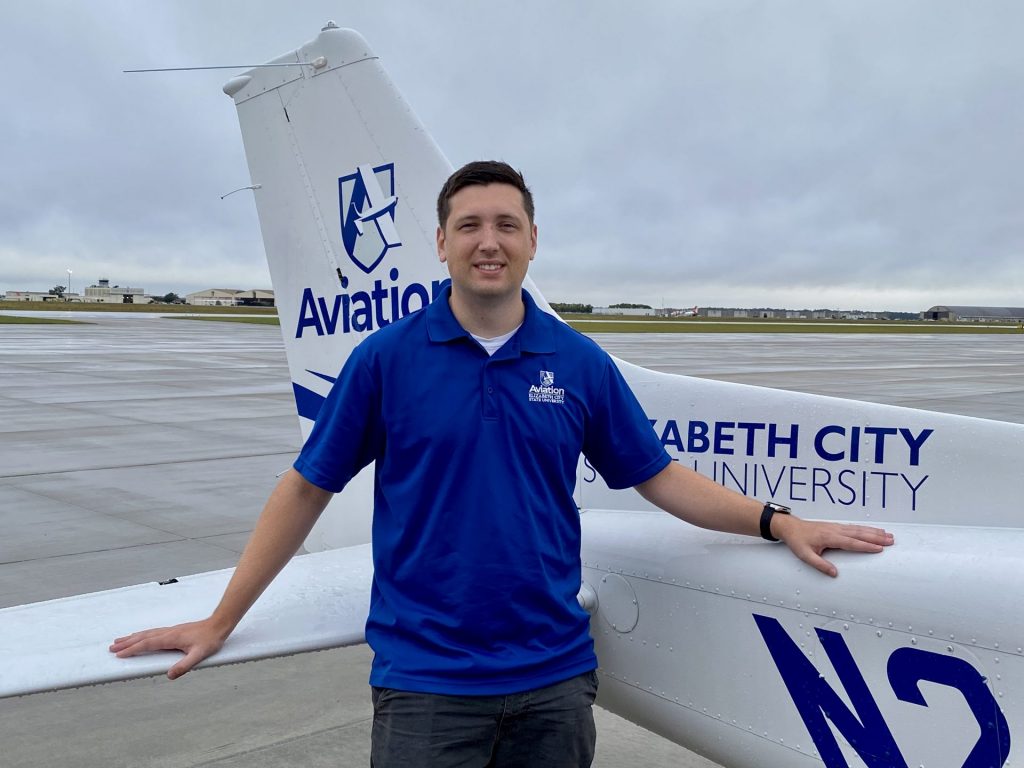 Alex Domingue has made Elizabeth City State University history. The aviation science student and current ECSU flight instructor is the first Viking to be accepted into the United Airlines AVIATE program, preparing him for a career as a commercial airline pilot.
Domingue, after receiving his Certified Flight Instructor rating began working as a flight instructor last summer, building flight hours. When he learned about the partnership between ECSU and United Airlines, he quickly applied, not realizing he would be the first from the university to be accepted into the program.
"I knew there would be a lot of people in line, so I thought would jump on it," said Domingue. "I was surprised that I was the first."
Last April, ECSU and United Airlines announced the partnership, prompting aviation science students like Domingue to apply for a spot in the program. By August, when the partnership was ceremoniously launched on campus, his application was in the system with an invitation for an interview at United Airlines Flight Training Center in Denver, Colorado.
ECSU's Dean of the School of Aviation, Health, and Technology, Dr. Kuldeep Rawat, says this exclusive partnership with United Airlines brings the most direct route to a job offer for university aviation students. The partnership provides support and coaching to guide ECSU students on their journey to become United Airlines pilots.
"We are excited about Alex's selection into United's AVIATE program," said Dr. Rawat. "He has set a great example of how students can take advantage of partnerships that ECSU has established with industry to help them move seamlessly to a professional career upon graduation."
By partnering with United, ECSU aviation students accepted into the AVIATE program are afforded experiential learning opportunities to help them transition to the major air carrier as a first officer upon successful completion of the program and hiring requirements. Students will be paired with United pilots as mentors for career development opportunities and will have access to a broad array of career development resources.
Domingue began his journey to become a pilot when he transferred to ECSU with two associates degrees. Growing up as a child of a military service member, he had his eye on becoming an Air Force pilot but saw that the private sector offered greater opportunity for him.
"The way the pilot market is, it was a better opportunity for me," he said. The pilot market Domingue refers to is wide open to qualified women and men and needs more pilots to fill the ranks of the many who have either retired or are set to retire in the near future.
For Domingue, that means a chance to fly for the major carrier, but first he has work to do before slipping into the cockpit of a United Airlines Dreamliner.
While Domingue has completed a private and commercial pilots license, instrument rating and flight instructor certification, he must now complete his 1,000 hours of required flight time before taking his next step. That step will be, he said, applying to fly for one of the regional carriers to gain the experience needed to step up to the next level, a seat in one of United's cockpits.
Through his application with United's AVIATE program, he has essentially been hired by the airlines. The regional airlines that partner with United must still approve his application, however.
Applying for a position with a major airline is no small thing and as a current ECSU Aviation student, Domingue required some guidance. Dr. Rawat says that the Division of Student Affairs' Career Services office prepared him for the interview process.
Domingue will soon be assigned a mentor by United. That mentor will assist him in his career development efforts while he begins to climb the ranks of the airline industry.
He says United Airlines is clear about its intention for this up and coming generation of pilots to succeed. He says students preparing to apply for the program should maintain confidence in their abilities, and "be prepared."
---