Undergraduate Research Week Guest Speakers Feature Rising Star HBO and Netflix Television Writers
---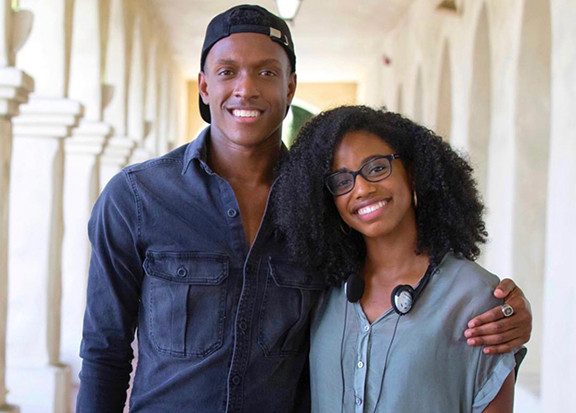 Bryce Ahart and Stephanie MacFarlane are television writers for HBO and Netflix and will be this year's Undergraduate Research Week guest speakers.
The Elizabeth City State University 2021 Undergraduate Research Week launches Monday, April 12. The events throughout the week highlight the research and work of students, focusing on a variety of topics from STEM to public health to the business of television. 
Research Week presentations are virtual this year. A program with Zoom links can be found HERE.
According to Research Week coordinator, Dr. Margaret Young, this year's keynote guest speakers, Bryce Ahart and Stephanie MacFarlane, will talk about the business of television. The pair have a strong track record in the industry.
Ms. MacFarlane and Mr. Ahart are both graduates of New York University's Tisch School of the Arts where they each graduated Cum Laude from the Dramatic Writing Department. During their senior year, they were two-out-of-eight writers selected for the 2017-2018 HBO Access Writer's Fellowship where their script, "Sterling," was selected to be produced through the fellowship program.
"Sterling" went on to be premiered at the prestigious SXSW Film Festival in Austin, Texas, and on HBO Max. After their fellowship, both Mr. Ahart and Ms. MacFarlane worked as staff writers and producers for two episodes of The CW's "Legacies." Most recently they worked on Netflix's "First Kill."
Their talk will happen Friday, April 16 at noon.
On Monday, presentations range from "Getting to Know the National Science Foundation" to "Old Oak Grove Cemetery, Historical Significance and Preservation Efforts: A Report from the Field," presented by history department students and professor, Dr. Latif Tarik. The featured presentation that day will be Plenary Speaker, Dr. Christine Bradish of AVOCA Farms, NC presenting, "Clary Sage: How Plant Breeding in Northeast NC Helps the World Smell Good."
Tuesday is STEM Day and features topics ranging from aviation, emergency management, and women in the humanities to investigating evidence of recent comet and asteroid impacts. The latter will be presented by physicist Dr. Malcolm LeCompte, who has extensive experience in the field studying evidence of comet and asteroid impacts.
Wednesday is Business Health Day and will feature topics from accounting to public health to "Marketing Research: The drivers of the growing market of wearable devices," presented by Teirra Pettway.
Thursday is Fine Arts/English/Digital Media Day and will feature a number of topics ranging from "The Evolution of Feminism and Gender Roles from Disney's Snow White to Brave," to "We're with You: The Miseducation of the George Floyd Murder and #BLM." Throughout the day, beginning at 9 a.m., will be the Visual Art/Graphic Design Showcase, hosted by visual arts professors Jeff Whelan, John Stiles, and Eric Luchian.
Friday is University Day and features the guest speakers, Mr. Ahart and Ms. MacFarlane. It will also feature Undergraduate Poster presentations from all departments, throughout the day.
​
---