UNC TV Historically Minority Serving Institution Forum Features ECSU Chancellor Karrie G. Dixon Oct. 22
Posted On October 18, 2019
---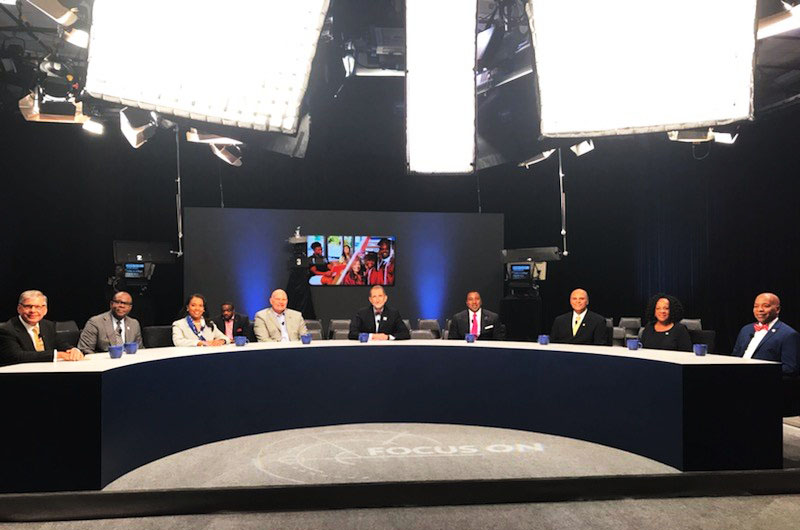 Elizabeth City State University Chancellor Karrie G. Dixon will be a key participant in the UNC TV forum, "Focus on the Future: North Carolina's Historically Minority Serving Institutions," on Tuesday, Oct. 22.
The forum is an hour-long segment that will highlight the University of North Carolina System's commitment to the six historically-minority serving institutions (HMSIs) and the impact they make on the communities and regions they serve.
The program will feature a roundtable discussion with Chancellor Dixon, UNC Board of Governors Harry Smith and Darrell Allison, UNC System Interim President Bill Roper, and leaders of all six UNC System HMSIs including Fayetteville State University Interim Chancellor Peggy Valentine; NC A&T University Chancellor Harold L. Martin Sr.; NC Central University Chancellor Johnson O. Akinleye; UNC Pembroke Chancellor Robin Gary Cummings; and Winston-Salem State University Chancellor Elwood L. Robinson.
"Along with the quality, affordable education we provide, ECSU is the economic engine for Northeastern North Carolina," said ECSU Chancellor Karrie G. Dixon. "We are continuing to thrive and push forward the excellence we know our institution provides to the region.
"We appreciate the UNC System Board of Governors for their continued support of HMSIs and for raising awareness about the impact we have and the important role we play in North Carolina and the UNC System."
UNC System Interim President Roper says the UNC TV forum puts into focus the "innovation and excellence that each of these institutions have to offer."
In 2018, the UNC Board of Governors created a special committee on HMSIs to address their diverse challenges and create strategies for future growth. The term HMSI refers to the six historically minority-serving institutions that are part of the UNC System. These institutions include five historically black colleges and universities (HBCUs) (Elizabeth City State, Fayetteville State, N.C. A&T, NC Central, Winston-Salem State), and one historically Native-American serving institution (UNC Pembroke). This UNC TV segment is a part of the Governors' commitment to bring more attention to the six System HMSI universities.
"The UNC Board of Governors is leading the way in supporting our HMSIs," said UNC Governor and HMSI chair, Darrell Allison. "The committee was created to find new ways to highlight their uniqueness and showcase their value to their communities."
The UNC TV HMSI forum will air Tuesday, Oct. 22 at 8 p.m. on public television stations across the state. ECSU's WRVS 89.9 FM will simulcast the forum at 8 p.m. Online streaming will also be available.
The ECSU students, employees, alumni, and friends are encouraged to gather for their own virtual watch parties during the broadcast.
---