UNC Board of Governors Makes New ECSU Board of Trustees Appointment, Reappoints Three
---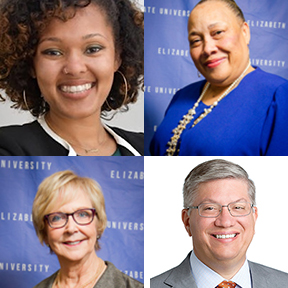 Dr. Tiffany Jones, top left, is ECSU's newest Board of Trustees member. Clockwise from top right: Dr. Stephanie Johnson, Phyllis Bosomworth and Stephen Friedrich were recently reappointed to the board.
Dr. Tiffany Jones of the Bill and Melinda Gates Foundation is the newest appointee to the Elizabeth City State University Board of Trustees. During its May meeting, the UNC Board of Governors took action to approve the appointment of Dr. Jones and the reappointment of three current board members – trustees Dr. Stephanie Johnson, Phyllis Bosomworth and Stephen Friedrich.
Dr. Jones is deputy director of data, measurement, learning and evaluation for the Bill and Melinda Gates Foundation. She leads the foundation's team responsible for "dramatically increasing student success and eliminating race, ethnicity, and income as predictors of that success.
Dr. Johnson, a 1974 graduate of ECSU, is a mentor for the National Association of Elementary School Principals and an adjunct professor at Hampton University.  She holds a Master of Science in Elementary Education and Certificate of Advanced Studies in Elementary Education from Old Dominion University. She also holds a Doctor of Administration and Policy from George Washington University. 
Ms. Bosomworth is a graduate of UNC Chapel Hill with a degree in political science. She is a leader in the real estate industry in Northeastern North Carolina as a certified residential specialist, certified brokerage manager, accredited buyer representative and senior real estate specialist.
Mr. Friedrich is the chief commercial officer for Embraer Executive Jets. He has spent his career in the aviation and aerospace industry.
In his current role with Embraer, Mr. Friedrich oversees sales, client and industry relations, and business development. Embraer manufactures "internet enabled flying offices" designed for executives of Fortune 500 companies and middle-market firms.  Mr. Friedrich graduated from Lafayette College with a degree in economics and business, and from the Stern School at New York University with an M.B.A.
---