UNC Board of Governors Chair Harry Smith Praises ECSU's Growth
Posted On January 16, 2019
---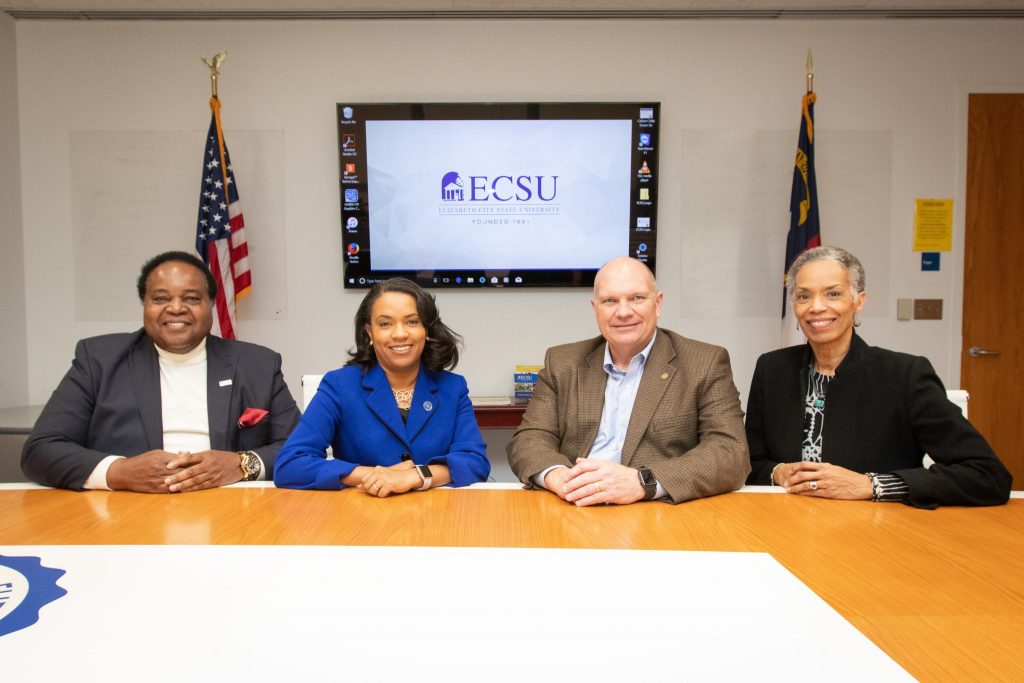 UNC Board of Governors Chair Harry Smith, second from right, joined ECSU Chancellor Karrie Dixon, center, Board of Trustees Chair Harold Barnes, left, and Trustees Vice-Chair Jan King Robinson, right, for a press conference Wednesday, Jan. 16.
University of North Carolina Board of Governors chair Harry Smith doesn't keep his love for Elizabeth City State University a secret. He's been intimately involved in the growth of the institution for nearly three years.
"It's a great feeling when you get it right and we (Board of Governors) haven't gotten anything as right as we have here at Elizabeth City State University," said Smith Wednesday, Jan. 16, when he paid a visit to the campus, and Chancellor Karrie Dixon.
Smith's participation in ECSU's recent growth in enrollment, funding, programming, and facilities improvements goes back nearly three years when the university launched the first of two working groups. The working group effort was designed to enhance ECSU's presence in the state and increase enrollment numbers.
While Smith's efforts during the first working group was instrumental in significant change, it was during the second working group that the recently appointed board chair was most visible. His work with the ECSU staff and Chancellor Dixon helped bring significant change to the campus.
Among some of those changes was a $2.3 million appropriation for needed work on campus. During his Wednesday visit, Smith said it's important to maintain an appropriate level of funding and support for ECSU in an effort to help "change lives."
"The potential here (at ECSU) is great," said Smith. "The Board of Governors are properly advocating for ECSU. They recognize the value here for changing lives."
Smith has long been an advocate of ECSU's aviation program, observing during a campus visit back in 2016 that it must be a priority for the institution. With its unique position of being the only four-year aviation degree program in North Carolina, it has become ECSU's signature program.
"Aviation is a massive demand in the area," he said. "The opportunity there is pretty special."
But ECSU is not only about aviation. During a press conference with Smith, Chancellor Dixon observed that the university is increasing its online degree offerings, and recently announced the launch of its Master of Education program.
Along with affordable tuition through the N.C. Promise Tuition program, Chancellor Dixon said ECSU is working on significant growth.
"We want to make sure we are leveraging all of that to encourage enrollment growth," she said.
Joining Smith and Chancellor Dixon in the press conference were ECSU Board of Trustee chair Harold Barnes and vice-chair Jan King Robinson. Robinson has been a long-time advocate of ECSU's teacher education program.
She says the university and trustees are looking to the future of teacher education, exploring best practices found both across the United States and globally.
Chancellor Dixon said teacher education would be playing a "big role" in ECSU's upcoming strategic planning.
Chancellor Dixon said ECSU is grateful for Smith's support and role in the university's growth. In turn, he praised her leadership and the work of her team for helping move ECSU forward.
Chancellor Karrie Dixon is, he said, a "rock star."
---