U.S. Rep. Butterfield congratulates new intern at USDA
Posted On November 21, 2011
---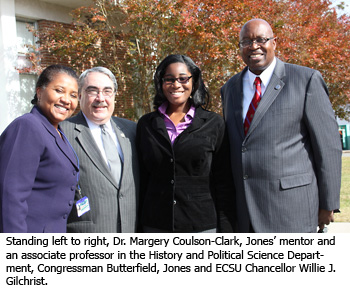 Kesha Williams
November 21, 2011
Tomeika Jones a senior majoring in political science completed a summer internship with the U.S. Department of Agriculture. U.S. Rep. G. K. Butterfield came to the campus recently to congratulate Jones and to wish her much success when she returns to the agency for a second internship. Jones is a member of the Global Leadership Academy.
Jones completed her internship in Washington, D.C. with the U.S. Department of Agriculture and Civil Rights. She worked as an information research specialist who places complaint information into USDA database system. Congressman Butterfield, who represents the district where ECSU is located, encouraged USDA officials to create new internships.
Prior to being elected to represent North Carolina's First Congressional District on July 24, 2004, Congressman G. K. Butterfield enjoyed a distinguished legal career.&ampnbsp He worked in private practice for before serving as a state Superior Court Judge and as a North Carolina Supreme Court Justice.Currently, Congressman Butterfield sits on the powerful House Committee on Energy and Commerce Committee, where he serves as Ranking Member of the Subcommittee on Commerce, Manufacturing and Trade. He also serves as a member of the Subcommittee on Environment and the Economy.
Congressman Butterfield is currently serving his third term as Chief Deputy Whip after first being appointed to the Democratic leadership post in the 110th Congress.
Congressman Butterfield is a lifelong member of Jackson Chapel First Missionary Baptist Church in Wilson, N.C. He is a veteran of the U.S. Army and the father of two adult daughters.
---