U.S. News ranks ECSU #2 among Top Public Schools (Regional Colleges in the South)
Posted On September 16, 2014
---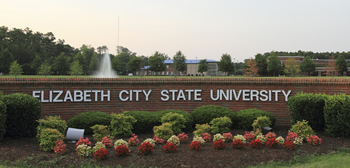 Kesha Williams
September 16, 2014
U.S. News and World Report's 2015 edition of Best Colleges reveal Elizabeth City State University as #2 in the publication's category of Top Public Schools (Regional Colleges in the South).
According to that publication, public colleges and universities are typically operated under the supervision of state governments and are funded, in part, by tax dollars and subsidies from the state. As a result, these universities often offer discounted tuition to students considered residents of the state. Public schools run the gamut from small liberal arts colleges to large research institutions. These are the highest ranked public colleges and universities in the 2015 Best Colleges rankings, listed according to their ranking category.
Regional Universities offer a broad scope of undergraduate degrees and some master's degree programs but few, if any, doctoral programs. Regional Colleges focus on undergraduate education but grant fewer than 50 percent of their degrees in liberal arts disciplines this category also includes schools that have small bachelor's degree programs but primarily grant two-year associate degrees.
Regional Universities and Regional Colleges are further divided and ranked in four geographical groups: North, South, Midwest and West. Once schools have been divided by category, editors gather data from each college on up to 16 indicators of academic excellence. Each factor is assigned a weight that reflects our judgment about how much a measure matters. Finally, the colleges and universities in each category are ranked against their peers, based on their composite weighted score.
The publication ranked ECSU as #20 among its Historically Black Colleges and Universities. This marks the eighth year the publication has ranked HBCU's against each other to determine the quality of undergraduate education offered at these public and private institutions. To qualify for the U.S. News ranking, an HBCU also must be an undergraduate baccalaureate-granting institution that enrolls primarily first-year, first-time students and must be a school that is currently part of the 2015 Best Colleges rankings. The indicators the U.S. News and World Report editors use to capture academic quality fall into six categories: assessment by administrators at peer institutions, retention of students, faculty resources, student selectivity, financial resources and alumni giving.
Chancellor Charles Becton said the rankings are excellent indicators of the quality education students receive here. Earlier this month, Becton recounted for alumni, students, staff faculty and supporters the importance of focusing on notable achievements such as impressive rankings. They, after all, assure students and parents the university is well poised to propel students to success in the future. They also solidify the importance of the institution to the region and state.
&quotECSU continues to garner national acclaim for its excellent educational offerings, its affordability, and its value to this region. The entire university community is thrilled that, in U.S. News &amp World Report's 2015 college rankings, ECSU is rated #2 in the Top Public School Regional Colleges in the South category,&quot Becton said.
&quotThis marks the third year in a row that ECSU has received one of the top three rankings in this category by U.S. News and World Report. I extend my thanks to our administrators, faculty, staff, and students for demonstrating, once again, sustained excellence without excuse.&quot
---