U.S. Congresswoman Alma S. Adams to Address ECSU Graduates at 175th Commencement Exercises
Posted On December 2, 2022
---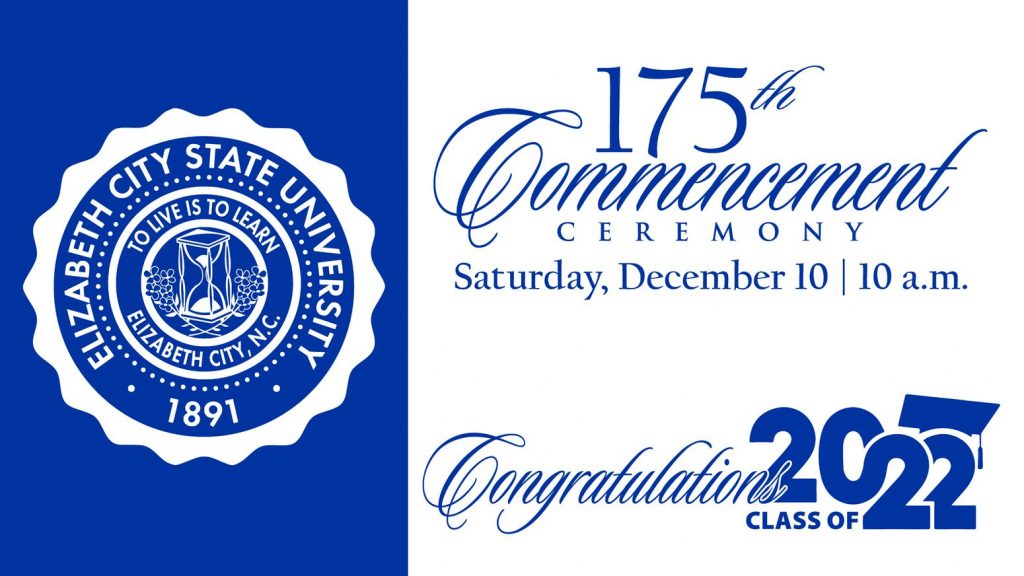 More Than 200 Bachelor's and Master's Degrees Will be Awarded; Four Graduates Will be Commissioned as Officers in the United States Army
Elizabeth City State University (ECSU) will host its 175th Commencement Exercises on Saturday, Dec. 10, 2022. The ceremony will take place in the Robert L. Vaughan Center Gymnasium at 10 a.m. The university will confer an estimated 200 bachelor's and master's degrees to fall 2022 graduates.
This year, the fall Commencement ceremony will be a ticketed event to accommodate the growing number of students graduating from ECSU. All graduates are provided 10 tickets.
A Commissioning Ceremony will be held on Friday, Dec. 9, 2022, at 11 a.m., in the Mickey L. Burnim Fine Arts Center on ECSU's campus. Four students will be commissioned as Second Lieutenants in the United States Army. The speaker will be CH (COL) B. Gregory Edison, TRADOC Chaplain.
Two honors during the Commencement ceremony include recognition of the Bearer of the Mace, the student who entered ECSU as a first-time freshman and has the highest cumulative GPA in the graduating class for the prospective Commencement exercise, and the Bearer of the Shield, the student who entered ECSU as a transfer student and has the highest cumulative GPA in the graduating class for the prospective Commencement exercise.
Commencement Speaker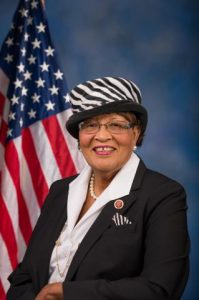 U.S. Congresswoman Alma S. Adams, Ph.D., will serve as the 175th Commencement speaker for ECSU. She was elected to her fourth full term representing the 12th Congressional District of North Carolina on November 3, 2020. After winning a special election in November 2014, Adams was sworn in immediately as the 100th woman elected to the 113th Congress. Adams serves on the Committee on Financial Services; Committee on Education & Labor and the Committee on Agriculture.
She holds several leadership roles: as Assistant Whip for the Democratic Caucus, Chairwoman of the Committee on Education & Labor's Subcommittee on Workforce Protections, and Vice Chairwoman of the Committee on Agriculture. In addition to Workforce Protections, Adams's subcommittee assignments include Civil Rights and Human Services Committee on Education and Labor; Nutrition, Oversight, and Department Operations on Agriculture, and the Oversight and Investigations on Financial Services. Her signature legislative accomplishment in Congress is the enactment of H.R. 5363, the Fostering Undergraduate Talent by Unlocking Resources for Education (FUTURE) Act which permanently provides funding totaling $255 million a year for all Minority-Serving Institutions, including $85 million for HBCUs.
Adams graduated from North Carolina A&T State University and received her Master's degree in Art Education. She earned her Ph.D. in Art Education and Multicultural Education from The Ohio State University.
Honorary Degree Candidate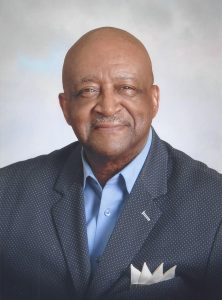 An Honorary Doctor of Public Service will be awarded to Mr. Abdul Sm Rasheed '71, immediate past president of the ECSU National Alumni Association, former chair of the ECSU Foundation Board, former chair of the ECSU Board of Trustees and trustee emeritus.
Rasheed founded and served as the former CEO of the North Carolina Community Development Initiative and Initiative Capital, a "U.S. Treasury Certified Development Finance Institution." For 20 years, Rasheed supported the development of public/private efforts supporting local community development corporations, leadership development and capacity building, while working with local low-income leaders, government, foundations, private corporations, banks and other financial institutions. His efforts produced Housing, retail/commercial ventures, industrial projects, and projects that provide housing for seniors and families, jobs and services in low-income areas.
Currently, Rasheed serves as Senior Advisor to the board of Franklin- Vance-Warren Opportunity and CEO. He holds an Honorary Doctorate from Livingstone College, a Bachelor of Science in Basic Business from ECSU, MED in Counseling and Personnel Services from Trenton State University and a Master of Science in Community Economic Development from Southern New Hampshire University. He is a graduate of the Senior Executive Management Program of the John F. Kennedy School Harvard University.
ECSU 175th Commencement Exercises and Commissioning Ceremony
Commissioning Ceremony: Friday, Dec. 9, 2022 at 11 a.m.
Mickey L. Burnim Fine Arts Center
Commencement Exercises: Saturday, Dec. 10, 2022 at 10 a.m.
Robert L. Vaughan Center Gymnasium
---