Two University Police Officers Complete West Point Leadership Program
Posted On December 20, 2019
---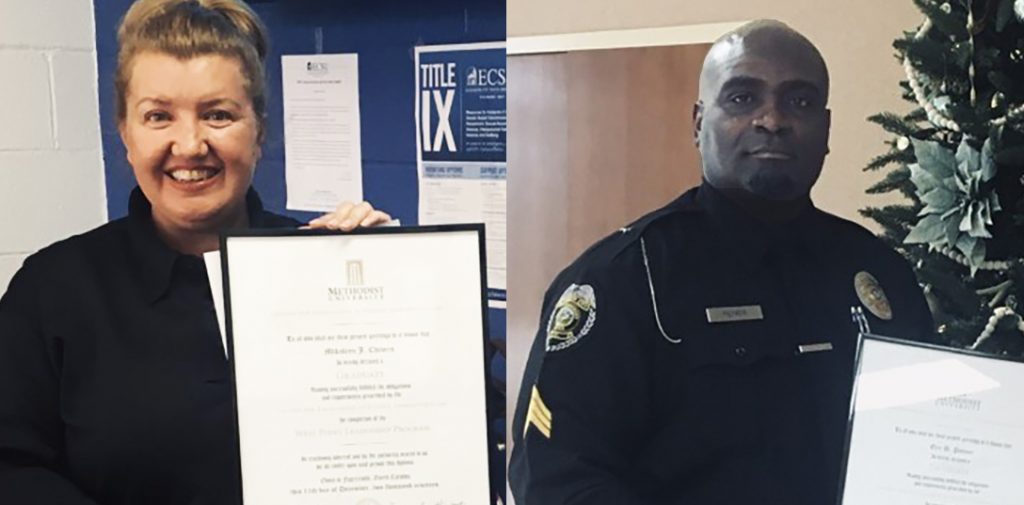 Sgt. Eric Poyner, right, and Sgt. Mikaleen Chivers graduated from the program earlier this month.
Two Elizabeth City State University police officers have completed the West Point Leadership Program. Sgt. Eric Poyner and Sgt. Mikaleen Chivers graduated from the program earlier this month, according to ECSU Police Capt. Sharieka Clifton.
The West Point Leadership Course is adapted from the Military Leadership Course required of all cadets at the United States Military Academy in their third year of study. The course has been adapted for use in non-military organizations such as law enforcement.
"This is an academically rigorous course that relies heavily on case-based learning," said Capt. Clifton.
The course is 102 hours of study that examines and integrates leadership in organizations from four perspectives: the individual, the group, the leader, and the organization.
Sgt. Chivers has been with the University Police Department since 2015. She began her law enforcement career with the Elizabeth City Police Department.
While on patrol at the Elizabeth City Police Department, she began taking training classes and college courses prior to obtaining her associate's degree from the College of the Albemarle. In 2004, Sgt. Chivers moved to investigations where she was a detective who specialized in sexual assaults and crimes against children.
Sgt. Chivers received her Advanced Law Enforcement Certification and completed training through the North Carolina Justice Academy to obtain her Criminal Investigations Certification. She has over 1,000 hours of law enforcement training.
Sgt. Eric Poyner is a veteran police officer with 22 years of experience. For the past 10 years he has worked for the University Police Department.
Sgt. Poyner says he believes in community policing, and he believes in positive, long-lasting relationships with the student community. Sgt. Poyner has established programs and initiatives such as Barber Shop Talk and Kings of Distinction where young men can converse about life, finances, and the planning of their future.
He holds a Bachelor's Degree in Entrepreneurial Leadership and a Bachelor's Degree in Biblical Studies from Mid-Atlantic Christian University. He also holds a Masters Degree in Entrepreneurship from Western Carolina University.
---